Rafael Nadal of Spain celebrates defeating Roger Federer of Switzerland in their men's singles semi-final match at the Australian Open 2014 tennis tournament in Melbourne January 24, 2014. [Photo/Agencies]
MELBOURNE, Australia - Rafael Nadal continued his dominant streak over Roger Federer to reach the Australian Open final for the third time, beating the 17-time major winner 7-6 (4), 6-3, 6-3 Friday night to set up a championship decider against No. 8-seeded Stan Wawrinka.
More about Australian Open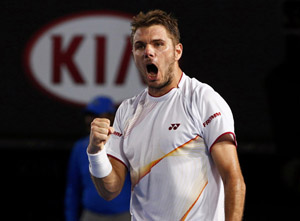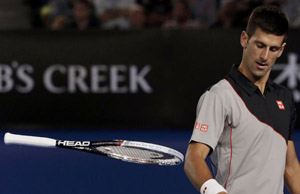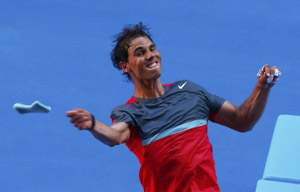 Nadal now has won 23 of his 33 matches against Federer, including nine of 11 in the majors. The 27-year-old Spaniard is one victory away from being the first man in the Open era to win all four majors at least twice, and from joining Pete Sampras in second place on the list of all-time Grand Slam winners with 14.
At the end of the night, Federer knew he wouldn't even be the No. 1-ranked player in Switzerland next week. By reaching the final, Wawrinka ensured he'd replace Federer as their country's highest-ranked player for the first time.
Nadal missed the 2013 Australian Open during a seven-month layoff for illness and a knee injury, but returned to win the French and U.S. Opens among his 10 titles for the season and finished the year at No. 1.
"It's really, really emotional for me to be back on this court, Rod Laver Arena, and to be able to play another final," Nadal said.
His previous match against Federer in a Grand Slam was here in 2012, when he beat him in four sets in the semifinals before losing the five-set, five-hour, 53-minute final to Novak Djokovic.
Nadal is now second on the list of players reaching Grand Slam finals, joining Ivan Lendl on 19 _ Federer leads the list with 24, but hasn't figured in a major final since winning Wimbledon in 2012.
The crowd was overwhelmingly behind the 32-year-old Federer, growing more animated the further he fell behind. There was a huge cheer when Federer won a challenge on a call to hold and make it 2-all in the second set after facing break point. The first break of the match _ for Nadal _ came in the sixth game of the second set.
Federer then got a standing ovation and a giant roar from the crowd when he broke Nadal back to make it 2-all in the third set, immediately after dropping serve in the previous game.
The crowd chanted, "Let's Go Roger," until Federer was ready to serve again. He was broke again soon after.
Nadal has struggled with a blister on the palm of his left hand in his last two matches.  A TV camera got a close-up view of the blister when he took a medical timeout after the first game of the second set, drawing gasps and groans from the crowd.
Wawrinka beat Tomas Berdych in four sets on Thursday night to reach his first major final, getting an extra day off ahead of Sunday's championship match.