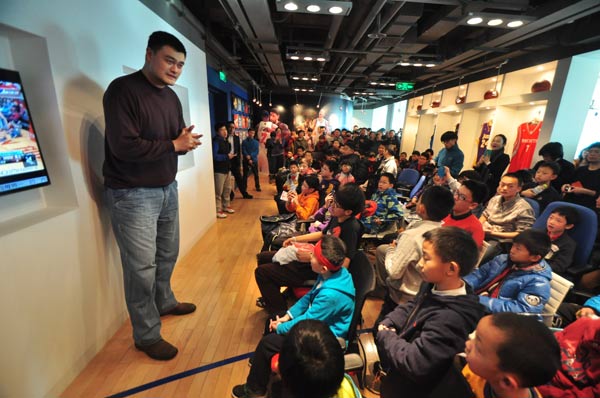 Yao Ming gives his opening remark before watching an live NBA game between the Phoenix Suns and Golden State Warriors with hudrends of children at NBA China Beijing office on Saturday. [Photo by Sun Xiaochen / chinadaily.com.cn]
School principal Yao Ming stresses to foster happy and healthy students rather than future hoop stars.
NBA China's Beijing office has never been so crowded like on Saturday morning when more than 200 students and their parents packed the reception hall in high spirit.
All the children are the newly-registered students at the NBA Yao School, which just began admission on Dec 1, and they were joined by the school principal Yao and NBA China CEO David Shoemaker to watch an live game between the Phoenix Suns and Golden State Warriors as a New Year celebration.
Despite recovering from a cold, Yao communicated and played mini games with the children energetically after addressing a speech to reiterate his initial ideas of establishing such a school with NBA.
"We are not planning to train elite youth players on the professional level, we are just trying to enrich their extracurricular activities," said Yao, who officially partnered with NBA on youth development and charity last July.
"We aim to encourage them to be more confident to make new friends in life and inspire them to stay positive through the exercise of playing basketball."
Shoemaker, who awarded children with NBA gifts during the "lucky-draw" session, said his office has never been filled with so many cheerful laughs and voices.
"In this office, it has quite a lot of enthusiasm and energy over the course of regular work days but I've not seen anything like what I saw this morning with so many young children delighted to be getting a little taste of what the NBA Yao School stands for," he said.
"This is really about the youth development, where we think we can positively impact the youth through the game of basketball. Do so by giving young kids the opportunity of learning basketball but also life lessons of teamwork, leadership and communication."
The school, which is jointly developed and operated by NBA China and Yao, will provide after-school basketball training and fitness programs for boys and girls up to age 16 at all skill levels.
The first 13-week program will take place on each weekend from Feb 21 to May 25, 2014, at the Wukesong Basketball Park in Beijing.
NBA China will create the basketball training curriculum and operations manual, and select an experienced technical director to implement and manage the program. Yao will be responsible for developing and operating the school. NBA legends will make visits to the school to provide specialized instruction on basketball techniques, strength and conditioning, nutrition, and overall player development.
Students and parents can register via the official website of the school at www.nbayaoschool.com, the official Weibo at http://weibo.com/nbayaomingxuexiao or http://t.qq.com/NBA_YAO_SCHOOL, and the official hotline of 400-014-1113.
sunxiaochen@chinadaily.com.cn