World's top-ranked player follows up his PGA Championship with Deutsche title
Rory McIlroy needed three weeks to catch his breath after his first major victory, and it took him until the end of last year before he was back in the form that would eventually make him the No 1 golfer in the world.
The hangover was much shorter after he picked up his second major last month.
In his second tournament since winning at the PGA Championship at Kiawah Island by eight strokes, McIlroy shot a final-round 67 to win the Deutsche Bank Championship on Monday. McIlroy finished at 20-under-par, one stroke ahead of Luis Oosthuizen and two in front of Tiger Woods, to earn his third victory of the year, move to the top of the FedEx Cup standings and establish himself as the favorite for the PGA's player of the year.
"He's not No 1 in the world for nothing," said Oosthuizen, who led by three strokes heading into the day but fell to second with a double bogey on No 5. "He's a great young talent, (with) a lot of majors left for him to win. He's such a cool kid on the course. It's great playing with him. He makes tough shots look really easy sometimes."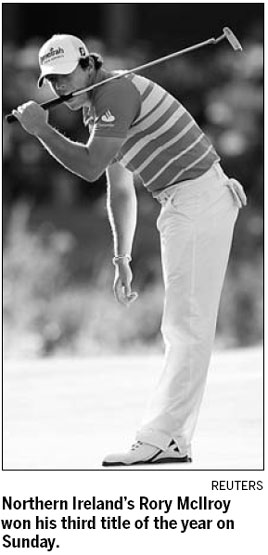 McIlroy won the US Open last year for his first victory in a major and then took some time off for the commitments - and celebration - that followed. He struggled when he returned, including a 25th at the British Open and a 64th at the PGA Championship, before righting himself in the fall with a slew of top-five finishes.
"I had a lot going on at that time, and probably didn't handle it the best," McIlroy said after claiming a check for $1.44 million. "I've learned how to handle winning big events and carrying myself forward and not dwelling on what's happened."
McIlroy won the PGA Championship on Aug 12, becoming the youngest player to win two majors since Seve Ballesteros. He finished tied for 24th last weekend at The Barclays and hovered near the top of the leaderboard all Labor Day weekend with a pair of 65s in the first two rounds followed by a pair of 67s to join Woods as the only three-time winners on the PGA Tour this year .
"There's a time and a place to celebrate and to enjoy what you've done, and going into the playoffs isn't it," said McIlroy, who also won the Honda Classic in March. "This run that we're on, we just have to keep thinking about the next week, and once Ryder Cup is over, for sure I'll think back and I'll celebrate and I'll enjoy the great golf that I've played over the last few weeks."
Woods, who won here in 2006, never got closer than three shots until a two-putt birdie on the par-5 18th gave him a 66 - good for third place and a check for $544,000 that made him the first $100 million man on the PGA Tour. Woods has earned $100,350,700; next on the list is Phil Mickelson - more than $30 million behind at $66,805,498 after finishing fourth at the Deutsche Bank.
"The purse increase helps," Woods said. "I won fewer tournaments than Sam Snead has, but obviously he was in a different era. It's just that we happened to time it up right and happened to play well when the purses really had a nice spike up."
Mickelson shot 66 on Sunday to tie for fourth with Dustin Johnson, who had a 70 and likely played his way onto the Ryder Cup team. Brandt Snedeker made a strong case for a captain's pick with a 65-67 weekend to finish sixth.
Davis Love III was set to announce his four picks on Tuesday in New York.
McIlroy had a three-shot lead with six holes to play, but needed a bogey putt on the 17th to stay in front after Oosthuizen, despite pain in his right shoulder, came back with two birdies to get within one.
McIlroy hit a chip shot over the 17th green into more rough, but Oosthuizen missed the green from 140 yards in the fairway, chipped poorly to 10 feet and missed his par putt. McIlroy calmly sank his 5-foot bogey putt to stay one shot ahead.
"I had a couple of wobbles coming in," McIlroy said. "But I obviously did enough and I'm very excited to get a victory."
(China Daily 09/05/2012 page23)