BEIJING - China's tennis chief has pointed out that the lack of systematic education has been the root of Li Na's weak nerves that led to a sudden meltdown during games.
Sun Jinfang, director of China's tennis administrative center, told a TV interview on Sunday that education should be more emphasized in the country's sports training system to avoid what happened to Li Na.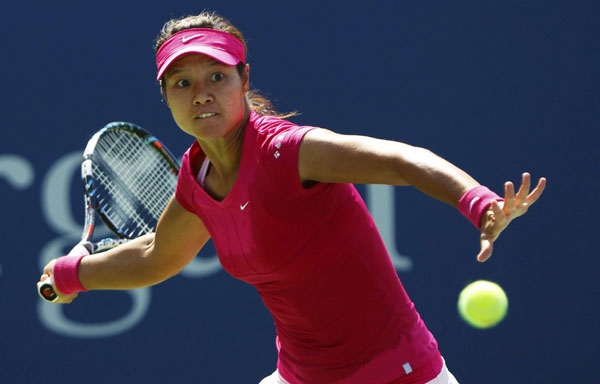 Li Na of China hits a return to Laura Robson of Britain during their women's singles match at the US  Open tennis tournament in New York Aug 31, 2012. [Photo/Agencies]
"We've seen lots of meltdowns on Li in recent months," she said. "It's quite normal, in my opinion, to an old-school Chinese sportswoman who didn't receive enough education to have a strong mind."
Turning pro at 17 years old, China's tennis superstar Li, like most of the country's sportsmen and women, had devoted all her mind and energy to training since she was a little girl.
"Without good education, the sportsmen or women are just like well designed computers with ill-suited software, impossible to perform their best," Sun said.
After being crowned at the 2011 French Open, Li Na dropped in rocket speed from top to bottom, losing her following two Grand Slam events in the second and first round, and another three in last 16.
In the ongoing US Open in Flushing Meadows of New York, the ninth seeded Li was ousted by British teenager Laura Robson last Friday in the third round, losing 6-4, 6-7 (5), 6-2.