China Daily website is inviting you to share Chengdu Story with us! and here are some points that we hope will help contributors: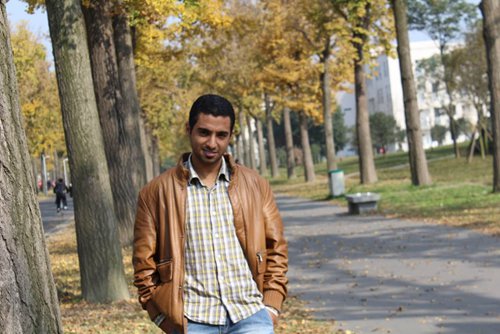 I'm a Yemeni student. I came to China in September 2014. I have been living here in Chengdu since then. And during my staying here I was fortunate to get involved through a lot of colorful stories.
For me, Chengdu is big and a diverse city as it assimilates many distinguished figures, as a new comer I adore getting lost in the middle of the city, unlike anyone. I know it sounds weird, but it is one of my extraordinary habits. It actually proved its worth in many occasions. As a matter of fact, coincidentally I kept encountering numerous number of wonderful and worth to visit spots, for instance breathtaking parks, bazaars and even flower's gardens. Yet what surprises me the most, is that after I posts the photos for those mesmeric spots in my social network, most of my acquaintance specially my Chinese friends relentlessly contact me looking for those picturesque spots, although they are considered as city dwellers.
I guess Chengdu city needs someone, who is really interested in exploring, and strolling around its both famously known and the obscure corners. It is quite charming when I go with my friends to an old and uncrowded bazaar. I admire the smell of that market, whereas it reminds me of what the ancient bazaars were look like. One upon a time I was invited by one of my Chinese friends to have lunch at his family house in one of the city old neighborhoods, because the streets were small more like allays, we couldn't hear any sound of traffic noise, just the sound of the caged birds playing their best melodies, my ears have not yet come to witness before. I deeply realized that the people dwelling such slow-paced environment, are more content and passionate towards life. Moreover they are more likely to be job and food selective as they prefer to earn a living by doing the job they like the best, whatever or however it seems humble and simple. And after my friend's mom had finished cooking for us, I had enjoyed a lovely talk as I was tremendously lucky because both of his parents were adepts to speak English, furthermore they were well acquainted with many topics we had a common interest about, not to mention the food which was distinguished yet delicious and fluffy, and a little bit spicy.
I do not deny, that at those humble neighborhoods are the most beautiful Chengdu girls and the most enticing ones, sometimes walking in that narrow streets, you can feel like you are witnessing a national beauty contest, sort of speak.
On the contrary, the modern era buildings those are prevalent around the city either in downtown or in some prosperous central sites along the city metropolitan, are also absolutely astonishing. It reflects how affluent the city economy had reached. I am intrigued with mind-blowing and artistically designed skyscrapers, so I find myself quite often staring upwards at those skyscrapers, while I'm walking beside them. One time an amazingly constructed store had distracted me, as I accidently had knocked a pretty lady with her dog, which instantaneously attacked me and as a result, I was laying in hospital for couple of days. It was obviously a misfortunate accident; On the other hand, it was a pleasant coincidence, as that girl and I had become bosom friends as she and her parents had took care of me, and since then they treat me as a family member, which symbolize their benevolence and their hospitality.
I knew, that I'm totally fortunate at the first moment, I received the university admission while I was in Yemen, even though I did not know that Chengdu was that beautiful and full with warmhearted people"成都人"(Chengdu people).
People lives in Chengdu whether they are local Chinese or foreigners are different than other people in whole China and the reason stands behind that is, the people whom may come to visit the city, they would rather prefer to stay than going back, all of aspect of life here, encourage anyone to stay, whether you were a student or a businessman.
Eventually, if I could speak to Chengdu personally, I would have told her that, I wish I was born here at least I would have experienced your traditions and your culture longer. As one life time is not enough.
The opinions expressed do not represent the views of the China Daily website.
[Please click here to read more My Chengdu Story. You are welcome to share your Chengdu stories with China Daily website readers. Please send your story to chengdu2016@chinadaily.com.cn]