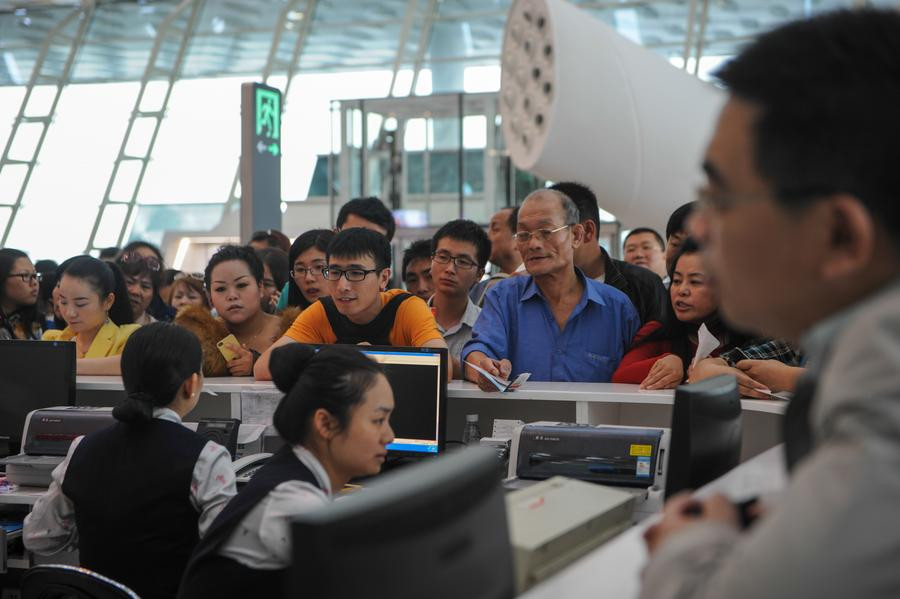 Passengers delayed by rainstorm wait to change their flights on Monday at Shenzhen Airport in South China's Guangdong province. Heavy rain grounded flights at Shenzhen Airport starting Sunday, and had caused 113 flights to be canceled by 6:30 pm on Monday, of which 43 flights were delayed more than two hours. By early Tuesday, flights arrivals and departures had returned to normal.[Photo/Xinhua]
By 9 am on Monday, 16 people were killed, two went missing and 834,000 were affected by the rainstorm, which started Friday and swept through southern China, according to statistics from National Disaster Reduction Committee.
Seven people from South China's Guangdong province were killed, and two went missing. East China's Jiangxi province, Southwest China's Guizhou province and Chongqing municipality, and Central China's Hunan province each reported two deaths. South China's Guangxi Zhuang autonomous region reported one person killed.
| | | |
| --- | --- | --- |
| | | |
| | | Beijing sees first rain this spring, lifts heavy air pollution alert |