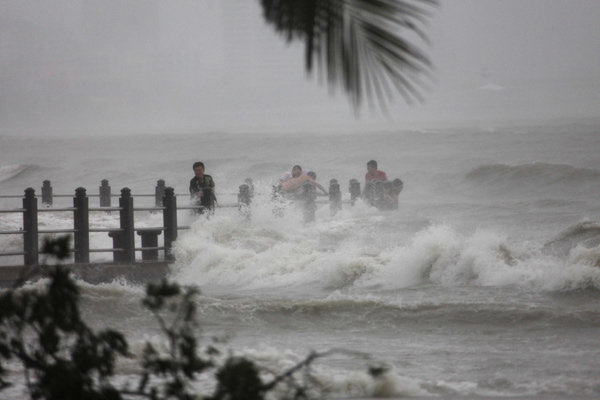 Rainstorms triggered by Typhoon Haiyan hits Sanya, South China's Hainan province, on Nov 10, 2013.[Photo/Xinhua]

NANNING -- Rainstorms triggered by Typhoon Haiyan hit south China's Guangxi Zhuang autonomous region on Monday as the storm entered the region on Monday after making landfall in Vietnam.
The epicenter of the storm reached Ningming County, Guangxi at 9 am Monday, packing winds with a speed of of about 118 km per hour, the regional meteorological station said.
The typhoon has weakened into a tropical storm and is moving northeast at a speed of 15 km per hour.
Rains lashed Beihai, Fangcheng and Shangsi in Guangxi with maximum precipitation of 291 mm in the past 24 hours, the station said on Monday morning.
The station forecast that downpours will continue to sweep the region until Tuesday. Local meteorological stations have issued a red warning, its highest level warning, for rainstorms in several areas of the region.
Typhoon Haiyan made landfall in northeastern Vietnam at 5 am Monday (Beijing Time). It has left at least 255 dead in the Philippines after its first landfall.
Strong gales and rainstorms swept the south of China's island province of Hainan on Sunday, disrupting flights and causing power blackouts. One pedestrian was killed and seven crew members of a cargo vessel went missing after the mooring rope of the ship broke in the storm.