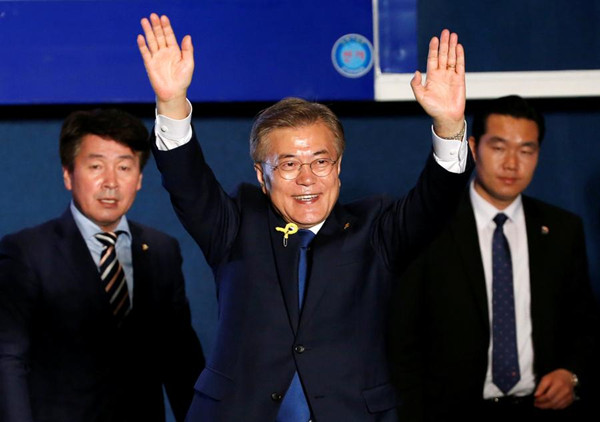 South Korea's president-elect Moon Jae-in gestures to supporters at Gwanghwamun Square in Seoul, South Korea, May 9, 2017. [Photo/Agencies]
The proposal, made by Republic of Korea President Moon Jae-in this week, to resume inter-Korean dialogue with the Democratic People's Republic of Korea is a welcome move after a long period of provocative actions and harsh rhetoric by various countries.
The meetings on military and Red Cross issues with Pyongyang, if held, will be the first such dialogue since 2014.
China has expressed support for the proposal aimed at improving relations through dialogue and promoting reconciliation, with Chinese foreign ministry spokesman Lu Kang calling on the international community to give its support.
However, Washington is not happy with Moon's offer, regarding the current conditions "far away" from those needed for any resumption of dialogue with Pyongyang.
Views outside the US government are split.
Former US deputy secretary of state John Negroponte believes diplomacy is the only way to resolve the complicated issue. He told a forum in Seoul on Wednesday that "we need to approach dialogue as a means to solve problems rather than as a reward for good behavior… Neither the US nor South Korea should shy away from bilateral talks with North Korea."
That was also the message in a June 28 letter to US President Donald Trump signed by six veteran former US officials such as former defense secretary William Perry, former secretary of state George Shultz, and Robert Gallucci and Bill Richardson, both of whom participated in previous talks with the DPRK.
The letter warned that "there is no guarantee diplomacy will work. But there are no good military options, and a North Korea response to a US attack could devastate South Korea and Japan."
It is not sure if such a rational argument will convince the Trump administration.
There has been much noise. John Bolton, a former US ambassador to the United Nations, is right that sanctions on Chinese firms won't be effective in solving the problem. But he is totally wrong when floating a military option in his op-ed in the New York Post on July 5. "They (China) can work with us or face the inevitable consequences, which will be far more damaging than pinprick sanctions," he wrote.
Bolton is right that such an outcome will be damaging to China; that's why China has repeatedly stressed stability and peaceful negotiation to the denuclearization of the peninsula. What Bolton did not mention is that it will be more devastating to the ROK and Japan, two of the United States' closest allies.
China has not only endorsed relevant UN Security Council resolutions, it has also implemented them effectively. China, however, made it clear that it will not cut normal trade ties with the DPRK that are not banned and restricted by the Security Council. Few in the US have probably thought about the kind of humanitarian disaster that would be triggered if the normal trade related to people's livelihoods in the DPRK was suddenly cut off.
Some in the US have even accused China of not wanting to see a unified Korea. That is not true. In my view, China would love to see a unified Korea that is peaceful and stable, not one that becomes a US puppet state, with US troops marching along the Yalu River bordering China.
Some in the US have long been used to others doing exactly what they are told to do by the US, and they are unwilling to listen to China or even the ROK, whose approach to the DPRK is quite different, as evidenced during President Moon's recent trip to Washington.
The whole world knows the US' military might and there is no need to show it time and again. It is time to show wisdom on the diplomatic front through direct talks.
The author is deputy editor of China Daily USA. chenweihua@chinadailyusa.com