Is life safer in China?
Editor's note: The kidnapping of Zhang Yingying, a visiting Chinese scholar at the University of Illinois, US, has raised concerns about the safety of Chinese living in the US. It also sparked an online discussion on which country is safer. What do you think?
deeds61 (US)
All I know as that I was born and raised in the USA. Now retired to China and I have never been to a safer place in my years of travel. I can walk anywhere in any city I have been here in China and no one ever bothers me. I cannot walk the streets after dark in any US city. So I'll just enjoy my retired life here in China. Plus, there are friendly people everywhere I go. Great place to live, great food and cost of living is great. Compared to most countries China is a safe friendly country.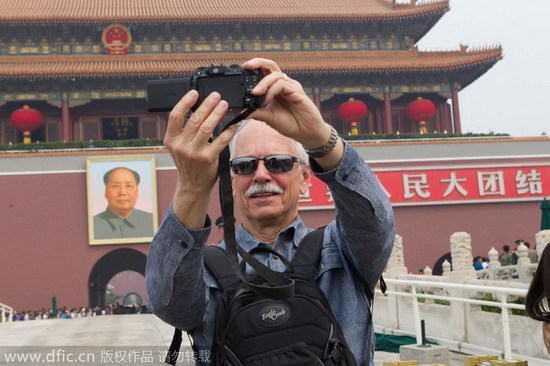 A foreign tourist takes selfies in front of the Tiananmen Rostrum during the May Day holiday in Beijing, China, May 1, 2014. [IC/Photo]