Lobsters at core of a tasty China-US story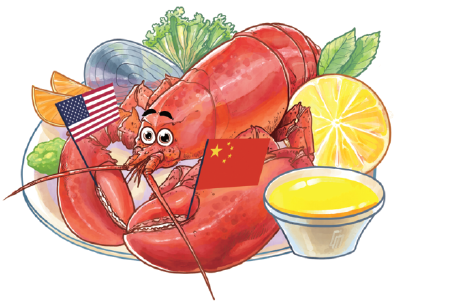 CAI MENG/CHINA DAILY
Lobsters caught by fishermen on Little Cranberry Island in Maine in the United States in the morning can be had for dinner by Chinese families the next evening. The lobster and shrimp farming industry in Maine, which despite its history of more 150 years faced an uncertain future because of overcapacity, has been revitalized by Chinese consumers' strong demand.
The "lobster story" recently reported by The Washington Post is not only about Chinese consumers' vital role in the revival of a US industry, but also about mutual beneficial cooperation.
That China-US interdependence in trade is based on win-win cooperation and mutual benefit is evident in the "lobster story". The volume of China-US trade was less than $13 million in 1972, the year when bilateral ties started thawing thanks to then US president Richard Nixon's visit to China. Last year, the bilateral trade volume reached nearly $520 billion. In 1979, when the two countries officially established diplomatic relations, Chinese people's impression of US products was largely limited to a "foamy drink called Coca-Cola".
China today is the US' largest trading partner and third-largest export market, and the US is China's second-largest trade partner and largest export market.
With 1.3 billion consumers with diversified demands, China has become an increasingly important market for US products. Lobsters from Maine are only one example of such products, even though data show the US exported 6.35 million kilograms of lobsters worth more than $100 million to China last year.
The robust performance of the US lobster farming industry against the bleak backdrop of global trade reflects the importance and potential of trade and complementary supply-demand relationship between the two countries. From toys and clothes to suitcases and mobile phones, high-quality made-in-China products have lowered the prices of consumer goods for US residents and thus helped millions of American families to save considerable amounts of money.
From the lobster farmers in Maine to cotton farmers in Texas, from thousands of Chinese enterprises to hundreds of millions Chinese consumers all have benefited from China-US trade and cooperation.
Besides, more cultural and social interactions between China and the US have brought about changes in the two peoples attitudes' toward each other. Drinking Coca-Cola is more of a habit for many Chinese today, reflecting Chinese people's changing attitude toward the West and Western products.
Similarly, lobsters imported from foreign countries, especially Australia, were regarded as high-end products in China. But after Maine fishermen started exporting their products to China in 2012, lobsters have become "affordable" seafood for many Chinese families, especially during traditional Chinese festivals. In normal times, too, the demand for Maine lobsters remains relatively high.
Lobsters from Maine have also made an increasing number of Chinese aware of the US state as a holiday destination that boasts beautiful forests, and offers attractive yacht rides and exotic dishes.
The hospitality industry, with tourism at its core, is becoming a new growth point in bilateral trade and cooperation, and will thus boost the retail, catering, hotel, leisure and entertainment sectors on both sides.
All this shows the two countries have the right conditions to expand and deepen their win-win cooperation and trade to create more success stories that will benefit not only their own economies, but also the world economy.
The writer is a columnist for Beijing Youth Daily. The article was first published in the newspaper on April 6.