More American lobster makes its way to Chinese dining tables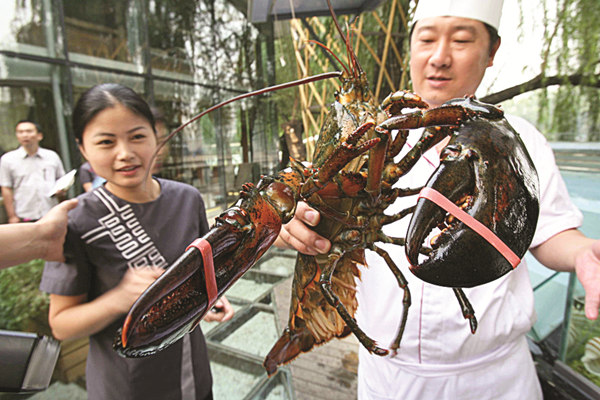 North American lobsters are showing up on dinner tables for Chinese New Year. Provided to China Daily
China's appetite for lobsters is continuing to rise, driving imports from the United States to a historic high, Bloomberg reports.
Most Chinese had barely heard of American lobsters until 2010, when the value of imports jumped 250 percent to about $7.4 million.
Last year, China imported more than $108 million worth of lobsters from the United States, a 14-fold jump from 2010, and recorded a historic high.
"We've opened new markets in Asia, which is booming," Dave Cousens, president of the Maine Lobstermen's Association, said.
In 2016, China imported more than 14 million pounds of American lobsters, an increase from the 13.1 million pounds brought in 2015.
Stephanie Nadeau owns The Lobster Company, in Arundel, Maine, a key player in the export business, and she believes one of the factors driving the consumption of lobsters in China seems to be the growth of the country's middle class.
China's middle class now numbers around 240 million, or 18 percent of the total population. However, this figure could jump to 400 million by 2020, according to a report by China Economic Weekly.
Also, American lobsters tend to be cheaper in China than other seafood such as geoduck clams and spiny lobsters, Nadeau added.
In the new year, China's consumption of lobsters has not shown a slowdown. The United States exported 1.7 million pounds of lobsters to China in January, with a value of $14 million.
Agencies contributed to this story.