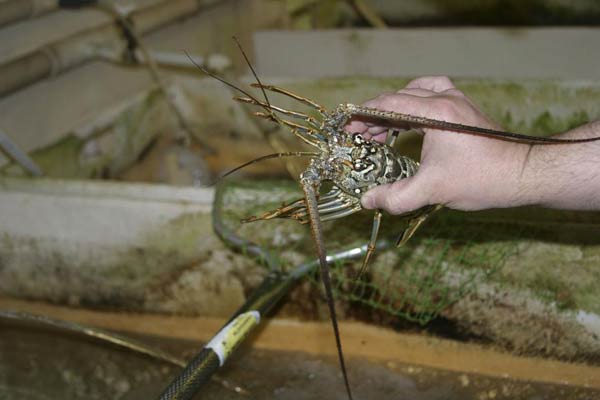 Researcher Yuriy V. Bobkov of the UF Whitney Laboratory for Marine Bioscience holds a Florida spiny lobster in the laboratory in San Augustine, Florida, March 17, 2014.[Photo/Agencies]
The United States lobster trade with China is growing rapidly, especially for a species called the spiny lobster that is harvested in the Florida Keys.
"China has upended the supply chain for lobster," said John Sackton, editor and publisher of US-based SeafoodNews.
"The Chinese prefer the spiny lobster over its better-known brethren, the North American or Maine lobster. Part of the reason is cultural. The Chinese think of a spiny lobster as similar to a dragon prawn and the dragon is a very powerful symbol in China."
One difference between the spiny lobster and the North American version is the time each species takes to mature.
"The Caribbean spiny lobster (the species caught in Florida) matures in its second year after the larvae settle. The American lobster, also known as the Maine lobster, has a much more variable age at maturity, often more than five years.
"The longer time to maturity is mostly related to the water temperature. The cold-water American lobster matures much more slowly. The average lobster in Florida is harvested at about 18 months old," said Tom Matthews, an associate research scientist with the Florida Fish and Wildlife Conservation Commission. At that point, the lobster weighs about 450 grams.
Sackton said Australia used to be the prime supplier of spiny lobsters to China. "When the Australians had trouble filling the orders, the Chinese turned to the US, specifically the Florida Keys," he said.
In 2013, the US exported about $7.3 million worth of spiny lobsters to China, up from about $3.2 million the previous year, according to a report in Miami Today and data from the National Oceanic and Atmospheric Administration.
The Caribbean spiny lobster is found from Brazil to Bermuda. The major countries that catch this lobster are Brazil, Cuba, the Bahamas, Nicaragua and Honduras.
"In Florida the commercial fisheries are only in south Florida, mostly the Florida Keys. Recreational fishermen catch small numbers of lobsters in all the waters surrounding the state," said Matthews. He said the Caribbean spiny lobster is a carnivore. It eats any small snail or other crustacean that it can catch and fit into its mouth.
Although the lobsters will scavenge, there are generally not many dead animals in a healthy ecosystem, so lobsters are not naturally scavengers. In the Caribbean, lobsters reproduce in all months.
In Florida, because of its semi-tropical climate, lobsters reproduce mostly from April to July.
Sackton said the Chinese made it clear that they prefer live lobsters.
"They want a live lobster flown to China and they are willing to pay for it. They got the fleet in the Florida Keys to change some of their tactics to meet this requirement," he said.