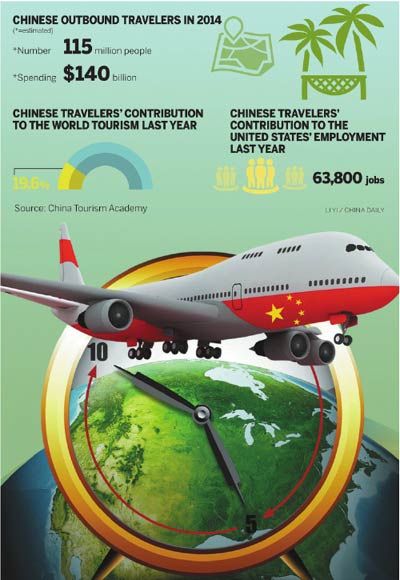 LI YI/CHINA DAILY
Think tank predicts ongoing surge in number of Chinese going abroad
The extension of tourist visas between the United States and China, from one year to 10 years, will provide a huge boost to the travel industries of both countries, says one of China's leading travel experts.
Jiang Yiyi, director of international tourism development at the China Tourism Academy, a top tourism think-tank based in Beijing, says the new US arrangement, along with the lowering of other visa restrictions for Chinese tourists elsewhere in the world, is likely to result in a steady 20 percent annual growth in the number of those traveling abroad.
However, she said the biggest hurdle of outbound tourism in China is the difficulty of getting visas. Those who have easier visa procedures on Chinese tourists will see quick benefits.
The result of that, she says, could be that other tourism markets might actually benefit from the new visa procedures, highlighting Jeju Island, in South Korea as a good example, which already allows visa-free short term visits from China. That move also quickly prompted a huge increase in the number of Chinese investors on the island, she says, moving there in the hope of cashing in on the Chinese traveler exodus.
Jeju attracted 1.81 million Chinese tourists last year, its largest single group of inbound visitors. Chinese investors are now believed to own 43 percent of the total land area owned by foreigners, worth nearly 3.63 billion yuan ($590 million), according to AJU Business Daily.
Jiang says that despite the US promising to increase the number of visas it issues to Chinese visitors, the sheer volume of expected applications to travel there could prove impossible to process.
China's outbound travel market has accounted for 20 percent of the growth in overseas visits to the United States since 2008. According to the White House, Chinese travelers consistently rank the US as their top desired travel destination, but only slightly more than 1.8 percent of total outbound travelers actually go to the country.
Last year, about $21.1 billion in spending was injected into the US economy by 1.8 million Chinese tourists, and the number of visitors is expected to jump 21 percent this year, according to the US Department of Commerce. The new visa policy could mean as many as 7.5 million Chinese visitors by 2021, bringing an estimated $85 billion to the economy, a White House statement said.
Last year, outbound Chinese tourist journeys reached 97 million, an 18 percent rise year-on-year. In the first 10 months of this year they have already exceeded 100 million, and are expected to hit 115 million by the end of this year.
Hong Kong and Macao continue to be the top outbound tourism destinations for Chinese mainland travelers, followed by Japan and South Korea, then neighboring countries in Southeast Asia, where visa applications for Chinese have already become relatively easy, and travel costs more affordable, according to Jiang.
But as Jeju Island, it is not just Chinese tourists spending money but also Chinese investors, who are eyeing the massive potential in making investments in popular outbound tourism destinations.
"Chinese tourists need services, especially those which make them feel at home, which is creating a big demand for Chinese products and facilities," says Jiang. "The Chinese tourism industry is certainly going global."
Chinese tourists have contributed significantly to the growth in global tourism spending, according to media reports.
Last year, of the 5 percent increase in worldwide tourism spending around 17 percent came from Chinese travelers, Jiang says.
In 2013, a total of 98.1 million Chinese tourists spent $120 billion abroad in around 110 different countries and regions, she says, $68 billion more than foreign tourists spent in China.