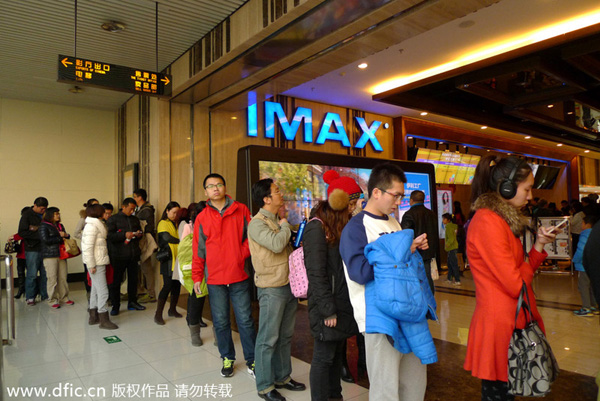 Moviegoers queue up to buy tickets at a cinema in Beijing, Feb 9, 2014. [Photo/IC]
BEIJING -- The disappointing box office performance of epic drama "The Crossing: Part 1" is a sign of the growing influence of a younger group of filmgoers in China.
Although "The Crossing: Part 1" stars the famed Takeshi Kaneshiro, Zhang Ziyi and Song Hye-Kyo and was made with at least 300 million yuan in investment, it has only earned 180.2 million yuan ($29.4 million) since it hit theaters on Dec 2, much lower than the expected 600 million yuan.
Meanwhile, the domestic romance "Fleet of Time," which follows the lives of a group of young friends, has easily taken in 548 million yuan since its debut on Dec 5, China Film News said in a report.
Adapted from the popular novel of the same name by Chinese writer Jiu Yehui, "Fleet of Time" tells the story of a group of friends as they experience high school, college and eventually adulthood through the 1990s and 2000s.
According to Chinese film maker Zhang Zhiyuan, the decreasing age of filmgoers has caused a slump for historical and artistic films such as "The Crossing: Part 1" and "The Golden Era," which depicts an important 20th-century female writer in China.
Zhang cited a report on his sina.com blog that said the average age of mainstream cinema-goers has decreased to 21.4 and continues to drop, leading to hard times for traditional dramas that do not cater to young people's tastes.
Zhang Huijun, president of the Beijing Film Academy, told Xinhua that 21.4 may not be the exact figure for the average age, as Chinese cinemas do not check customers' identities when buying movie tickets, but the trend toward younger movie audiences is obvious.
"We are glad to see more young people going to cinemas. They are not only in favor of big screens and sound effects, but also consider it a way to socialize," said Zhang.
However, movies tailored for the young are limited, Zhang added.
"Unlike the old generation, post-80s and 90s young people tend to see funny and relaxing films for entertainment," said Cao Peixin, an associate professor at Communication University of China.
Romantic comedy "Breakup Buddies," about a recently divorced man who goes on a road trip with his best friend, has benefited from the change in tastes, with more than 1.15 billion yuan in box office sales since it debuted in Sept 30.
However, people do not need to grieve epic dramas and historical movies, and artistic value should not be overlooked. "After all, good movies will stand the test of time," Cao added.