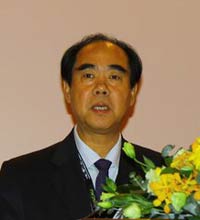 Fan Zhong, former labor union chairman and deputy Party chief of Dongfeng Motor Corp.
A former senior executive of one of China's automobile giants was placed under disciplinary investigation on Thursday, becoming the latest in a series of industry figures scrutinized by anti-graft watchdogs.
Fan Zhong, 61, who had served as labor union chairman and deputy Party chief of Dongfeng Motor Corp, is facing an internal probe on suspicion of alleged "serious violations of regulations and laws", a term that usually means corruption, the State-owned Assets Supervision and Administration Commission said in a statement. The commission did not elaborate.
Fan, a native of Shanxi province, joined the Chaoyang Diesel Engine Plant in Liaoning province in 1982 after graduating from a local polytechnic institute. He moved up through the ranks at the plant to become a senior manager at Dongfeng after the Wuhan company acquired the plant in 1993.
He was deputy Party chief at Dongfeng for about 15 years before leaving the post in January.
As one of the four biggest automobile conglomerates in China, Dongfeng sold more than 3.5 million vehicles in 2013 and had $74 billion in revenue, ranking 113th in the Fortune Global 500.
Last week, the Central Commission for Discipline Inspection of the Communist Party of China announced that Ren Yong, assistant general manager of Dongfeng, was suspected of "serious law and discipline violations" and is under internal investigation.
Ren is also vice-president of Dongfeng Motor Co Ltd, a joint venture of Dongfeng and Japanese automaker Nissan. He was among the first targets since the top disciplinary watchdog launched the third round of inspections into State-owned enterprises in November, which covers eight central-government-controlled enterprises, including China Southern Airlines and China Unicom.
Inspectors began to conduct in-house scrutiny of Dongfeng at the end of November and stayed for a month.
On Sunday, Dongfeng held a meeting to publish its punishments of 34 employees who were found to be misusing corporate funds. Three managers of its subsidiaries were stripped of their Party posts.
In August, the CPC Central Commission for Discipline Inspection said its inspectors probed three high-ranking managers, including a former deputy general manager of FAW Group, also a Fortune Global 500 automaker, suspecting them of embezzlement and taking bribes.
The central government unfolded an inspection campaign in May 2013, aiming to unmask officials and State-owned enterprise executives who are involved in corruption and other misconduct.
Mao Shoulong, a professor on public governance at Renmin University of China, said: "Each State-owned enterprise that is overseen by the central government stands a chance of being inspected," he said, adding that corruption is frequently seen in State-owned enterprises, as they have been developing rapidly in recent years but the supervision methods are old and ineffective.