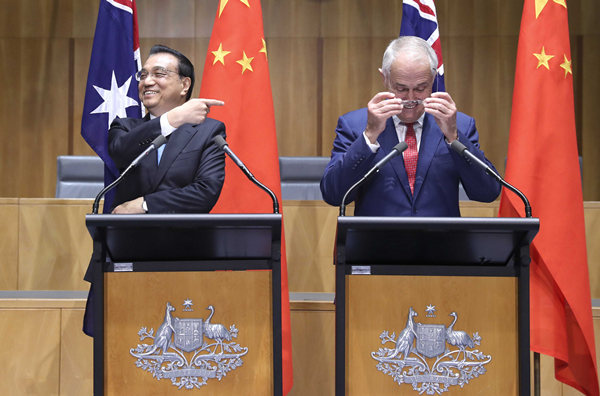 Premier Li Keqiang shares a light moment with Australian Prime Minister Malcolm Turnbull during a news conference at Parliament House in Canberra, Australia, on Friday. [Photo/Xinhua]
A worrying and dangerous trend has been noticed among media outlets and the political establishment in Australia, which threatens to squander what the country has achieved from its healthy and growing partnership with China. On June 5, the Australian Broadcasting Corporation, through one of its programs, accused China of trying to influence the Australian political system, among other means, by prompting Australian businessmen of Chinese origin to make donations to the country's political parties.
The lengthy evening show-based on the results of a joint investigation by Four Corners, the ABC's current affairs program, and Australia's Fairfax Media-was filled with hearsays and speculations, which wouldn't convince an objective and impartial audience.
Yet to people's surprise, Australian Prime Minister Malcolm Turnbull bought into this media farce and asked China to respect the sovereignty of other nations. The Australian leader's attitude shows he has confused right with wrong and ended up fueling anti-China sentiments in his country.
In fact, Turnbull had seized the opportunity to address a regional security forum in Singapore last month to criticize China for adopting a new version of the "Monroe Doctrine" to minimize the United States' influence in Asia.
Due to these developments, one can easily gauge the magnitude of the current uproar against China in Australia-a rare phenomenon in recent years that could cast a shadow on positive interactions between the two sides.
Thanks to the efforts of both sides, Beijing-Canberra ties have progressed smoothly, with the signing of the China-Australia Free Trade Agreement two years ago injecting new vitality into trade and opening up new horizons and sectors for cooperation.
Yet there is no denying there has been a China-phobic undercurrent in the Australian political system, which forces people to see Chinese presence in Australia, especially the intentions of Chinese companies and investors, with suspicion. In some extreme cases, major business deals have been scrapped simply because Chinese companies were parties to them.
One could even say Australia has never treated China as an equal partner, or given it the same status as the US, Britain and Japan. That Chinese investment in Australia is subject to perhaps the most severe scrutiny is just one example of such discriminatory treatment.
Had a US businessman donated money to an Australian political party, the issue might not have surprised, let alone raised doubts in, Australian society or media. But when a businessman of Chinese origin donates money to an Australian party, media outlets and the political establishment regard it as highly suspicious and politically motivated.
Australia is known for respecting diversity, because without the contributions of immigrants, including those from China, it would not have become a prosperous country. Wild speculations and unfounded accusations will only prevent Australia from benefiting from the Beijing-Canberra partnership. They could also prevent Chinese investors from investing freely and normally in Australia, which the FTA encourages.
As a country thousands of miles away from Australia, China has no reason or motivation to seek undue political advantage against Australia. But as Australia's biggest trading partner, China's rising significance for the Australian economy is quite clear.
With the Beijing-Canberra FTA continuing to benefit both sides, a rising number of Chinese have begun to see Australia in a more positive way. But such favorable atmosphere cannot be guaranteed in the future if the China-bashing trend continues in Australia.
Admittedly, no country other than the US enjoys absolute political influence in Australia. Many Australians would argue the US is Australia's military ally as well as biggest economic partner, meaning US investments in Australia outweigh those from China. Still, they cannot deny China's economic significance for Australia.
Australian politicians and media do not need to burn the midnight oil to seek a balance between the country's relationships with the US and China. All they need to do is to develop an unbiased and fair attitude toward China and the wisdom to avoid unnecessary confrontation, which are the basic requirements for a respectable country.
The author is a senior writer with China Daily. wanghui@chinadaily.com.cn