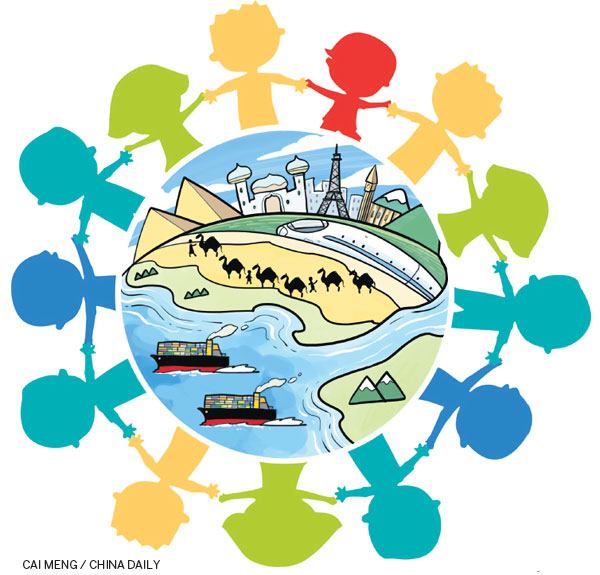 图片说明
Starting in Greece and finishing in Switzerland, my intensive odyssey to nail down how European countries are responding to the Belt and Road Initiative, which President Xi Jinping raised more than three years ago, comes to an end this week.
Patiently talking with about 100 politicians, officials, thinkers, lawyers, businesspersons and digging out stories in ports, airports, factories and construction sites during the previous 40 days has been an enlightening journey.
These modern Silk Road messengers in Europe have embraced Xi's plan as Beijing prepares to host the first-ever international cooperation forum on the proposal on May 14-15.
The interviews have enriched my understanding even though I have been closely observing this initiative since its announcement, aiming to connect Europe, Asia and Africa.
Talks with former Italian Prime Minister Romano Prodi well summarized my major findings: by calling it a century project that will benefit half humanity, he says Europeans are competing with each other to find synergies with China's Belt and Road Initiative.
He urged that Italy should not be left behind in such competition.
Basically, this proposal is about China's clear-cut message of reinventing common peace and prosperity, especially given the worsening geopolitical situation in some regions of the world and the continuous negative impact of financial and debt crisis originating in the United States and Europe nearly 10 years ago.
For the previous three years, the biggest role the Belt and Road Initiative has played is working as a catalyst, helping other countries find their advantages and uniqueness in a geopolitical way, while placing Asia, Europe and Africa in a long production supply chain or economic corridors.
Many countries have rekindled their passion and taken the courage to roll out their long-term national development strategies.
For example, Greece is determined to become a regional shipping, energy and transportation hub. Hungary and Czech Republic have indicated they want to be regional centers of aviation, logistics and finance. Serbia aims to be a gateway in the Balkan region.
This is encouraging as their ambitions and their implementation will not only develop the countries' economies, create more jobs and improve local livelihood but also bridge the regional differences in Europe.
It is fair to say that West Europe so far has shown less passion than the rest of Europe and countries there have not clearly spelled out their national strategy in finding common ground in implementing Belt and Road Initiative.
This is not worth worrying. As times goes on, the countries will find more chances.
Italy has recently cooperated with the ZTE in a 1-billion-dollar project in boosting its telecommunication infrastructure and preparing the country for the 5G era. This means improving connectivity even has opportunity in the developed economies if both sides are determined to do so.
Switzerland has set another example by working as an observer in the cooperation framework of China and the 16 Central and East European countries. This has set very good condition for the third-party cooperation by involving Switzerland and China in the central and eastern Europe.
Nearly all the rich countries in Europe are members of the Asian Infrastructure Investment Bank and through this vehicle, they will find more cooperation opportunities.
In a nutshell, this initiative is not only about China's outbound flow of capital, technology, human resources and ideas, but naturally includes those foreign elements flow into China. And it is even more about the elements of China and Western Europe meeting in the middle.
Pragmatism dictates that delivering of the Belt and Road Initiative needs patience. Some European countries still need structural reform and their legal system is complicated, which requires the businesses to have second thoughts when finalizing their investment plans.
Western thinking dictates that Rome was not built in a day. Nearly everything takes time to change. In interviewing China's telecommunication giant ZTE's branch in Rome, its slogan-Tomorrow Never Waits-also rings a bell with me.
In delivering the Belt and Road Initiative, inclusiveness, tolerance and even flexibility will count in achieving mutual understanding and joint actions.
The author is deputy chief of China Daily European Bureau. fujing@chinadaily.com.cn