Build trust to resolve DPRK nuke issue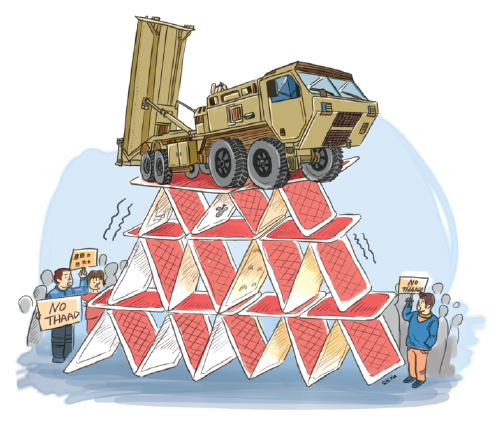 SHI YU/CHINA DAILY
Even the potential threat of a military conflict has not deterred the Democratic People's Republic of Korea from pursuing its nuclear program, as it is under the false impression that nuclear weapons can ensure its security instead of realizing they will further isolate it from the international community.
However, on April 13, DPRK leader Kim Jong-un announced the completion of a different program: the Ryomyong Street project in Pyongyang. By doing so, he sent a message to the outside world that apart from pursuing "nuclear hard power", it is also pursuing "nuclear soft power" and "economic development". Ryomyong Street is said to have nearly 5,000 apartments, which DPRK officials said, would be allotted for free to educators, scientists, and government officials. The distribution of the apartments shows that the DPRK attaches great importance to its professionals.
Described as "an iconic modern street architecture and a fairyland" with 70-story, 235-meter-tall residential buildings, and shops on both sides of the street lined with LCD TV sets and tablets, Ryomyong Street is seen as a symbol of the DPRK's modernization and an important achievement for the Kim Jong-un government. Also, it is expected to make Kim remain committed to developing economy and improving people's livelihoods.
Pyongyang had announced that it will build 100,000 residential housing units, but due to the DPRK's economic limitations, the plan has been downsized to build a smaller number of apartments for educators, scientists and government officials.
Due to the successive and severe UN Security Council sanctions and the closure of the Kaesong Industrial Park (a joint venture with the Republic of Korea), the DPRK has been trying to reduce the use of national resources to advance its nuclear program and, instead, is paying equal attention to economic development. As a result, the DPRK government has been making efforts to boost its economy while continuing to pursue its nuclear program.
The DPRK's economy, especially its agriculture and foreign trade, has not come to a standstill and the sectors related to people's livelihoods have basically maintained stable development despite the UN sanctions and last year's devastating floods, which were the worst in a century.
Pyongyang has launched some economic reforms by, for example, introducing a responsibility system and establishing more than 20 economic development zones. It has also developed a more tolerant attitude toward the market, adding vigor to people's livelihoods.
But since the DPRK remains more or less isolated from the international community, it will encounter huge difficulties in boosting its economy, especially because it is banned from exporting its mineral resources, which in turn will prevent it from amassing the funds needed for conducting new nuclear tests. And although the DPRK has made great efforts to reduce its dependence on imports, it cannot realize economic self-reliance and self-sufficiency by remaining isolated from the rest of the world.
Increasing economic hardship, however, may prompt the DPRK to again resort to a military-first approach and expedite its nuclear weapons' program, which will further increase its economic burden and worsen people's livelihoods.
The Korean Peninsula is growing to be a powder keg, which, once ignited, will rob Northeast Asia of its hard-won economic prosperity. The DPRK nuclear issue can be resolved only through the efforts and cooperation of the international community and other stakeholders that respect Pyongyang's concerns.
The international community therefore should gradually build trust with the DPRK through dialogue and economic cooperation, while prompting Pyongyang to abandon its nuclear program in phases, in order to maintain peace and stability in the region.
The author is a researcher at the Northeast Asia Studies Institute at Jilin Academy of Social Sciences.