Emerging markets encouraged to defend globalization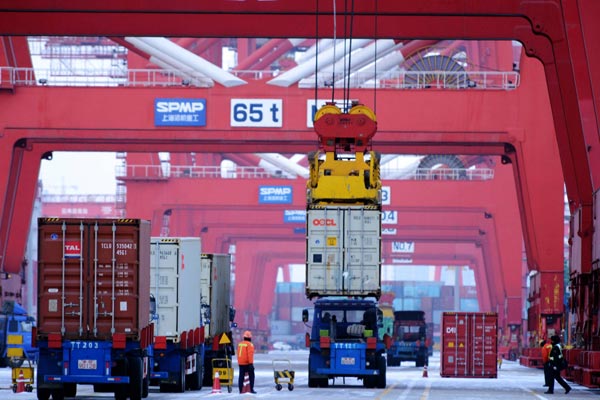 A ship loads containers at a terminal in Qingdao, Shandong province. [Photo/China Daily]
Globalization has fueled growth in advanced and developing economies, but is now at the center of a polarizing debate. While many of the world's major economies are today turning inward, the future of globalization depends on whether those emerging markets, like China, can lead it onto a more inclusive path.
The movement of goods, services, finance, data, and people, across borders, adds to gross domestic product (GDP) and fuels productivity growth in many developing countries. It, therefore, has created a pathway out of poverty for hundreds of millions of people.
While emerging economies have also boomed, and inequality between countries has lessened, inequality within many countries continues to rise. From 2005 to 2014, about two-thirds of households, across 25 advanced economies, have experienced stagnating or declining income. This has occurred while the wealthiest individuals, in specific countries, have realized tremendous gains.
Globalization is, however, not the sole cause of growing inequality in advanced economies. The transition to a digital economy disproportionately rewards workers with higher skills, and automates routine tasks, which has become a driving factor.
In nations where underlying growth has been lackluster, there is a growing tendency to blame globalization in all its forms for the fact that large segments have fallen behind.
A wave of wrong-headed protectionism could have damaging consequences in a world still struggling to jumpstart growth, and this scenario poses serious economic and social risks for themselves and other countries.
Nations around the world will eventually have to rely on their own domestic policy toolboxes to grapple with inequality and economic growth. However, there is work to be done at the international level as well. The most effective responses to shared challengessuch as climate change, volatility, terrorism, cybersecurity, and public health, are built on global cooperation.
The world needs to direct more investment and innovation into education and training, especially with workers facing fast-moving labor market shifts – both caused by foreign competition or automation technologies. We believe China can, and should make, a distinctive contribution in all of these areas.
The world also needs to put fundamental frameworks in place, in order to secure the healthy growth of the digital economy. China can push for international cooperation on issues such as data standards, data sharing, cyber security, and artificial intelligence. Given the immensity of its own potential data sets, sharing more of China's own information with the world could also contribute to global growth.
Infrastructure investment was a major component of China's economic rise, and the nation is now in a position to back projects that spur economic and social developments beyond its borders. The capital, expertise, and ambitions that have gone into the Asia Infrastructure Investment Bank and the One Belt One Road initiative can be applied to projects all over the world—in advanced, as well as developing, economies.
More broadly, China can reshape global governance. Within multilateral institutions, China is in a unique position to bridge the perspectives of developing and advanced economies. It will also be important for the nation to signal its seriousness about improving corporate governance. As Chinese companies expand, they should adopt global standards in labor, environmental and business practices, both at home and abroad.
China is deeply embedded into the global economy, and its prospects for continued growth and social stability are closely tied to the success of globalization. It is in the nation's own interests to invest in global public goods and mitigate the risk of other nations turning inward.
Proclamations alone will not be enough. It will take tangible steps toward reform and inclusiveness to rebuild the public's trust and backing for globalization.
The author is director of the McKinsey Global Institute, a senior partner with the McKinsey & Company