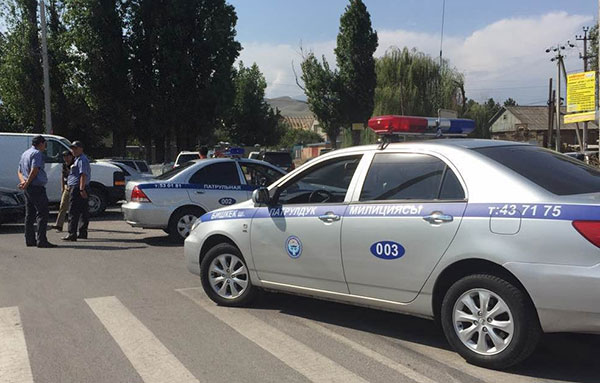 Police officers gather near the Chinese embassy in Bishkek, Kyrgyzstan, after a car bomb attack on Tuesday. [Photo/Xinhua]
A suicide car bomb attack on the Chinese embassy in Bishkek, capital of Kyrgyzstan in Central Asia, on Tuesday, killed the assailant and injured three local staff members.
The attacker forcibly drove a vehicle into the yard of the Chinese embassy and detonated a car bomb. Kyrgyzstan officially confirmed the incident as a "terrorist attack", which means it was the first attack of its kind targeting a Chinese embassy.
Due to the country neighboring Afghanistan and its role as a passageway for the flow of drugs out of Afghanistan, terrorism and extremism have resurged in Kyrgyzstan in recent years. Some brainwashed Kyrgyz people have been used as "cannon fodder" by terrorist groups for their "holy wars" across the world.
The Kyrgyzstan government has foiled several planned terrorist attacks and detained a number of local extremists conspiring with overseas terrorist groups this year. In response these terrorist groups have tried to retaliate.
The terrorist attack against the Chinese embassy, which abuts the US embassy, came a day before the 25th anniversary of Kyrgyzstan's independence.
The attack has not caused heavy casualties, but the fact that it was a suicide car bomb attack, a favorite of Al-Qaida and the Islamic State group, suggests that the attack may have direct or indirect links with these international terrorist groups. Such a trend, if not stifled in the bud, will risk turning Kyrgyzstan into a serious security threat to neighboring countries.
Kyrgyzstan is resolute in fighting terrorism, but the cross-border developments of terrorism and drug trafficking indicate that Kyrgyzstan cannot succeed in this task by its own. As the direct victim of this terrorist attack and for the security of its Belt and Road Initiative, China should work with Kyrgyzstan and other countries to promote international anti-terrorism cooperation.
--Beijing News