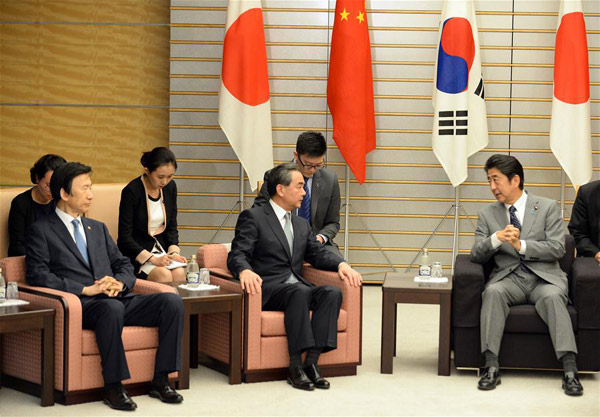 Japanese Prime Minister Shinzo Abe (R, Front) meets with Chinese Foreign Minister Wang Yi (C, front) and South Korean Foreign Minister Yun Byung-se (L, Front) in Tokyo, Japan, Aug 24, 2016. [Photo/Xinhua]
Chinese Foreign Minister Wang Yi's less than 48-hour stay in Tokyo last week was full of meetings.
He held talks with his Japanese and Republic of Korea counterparts Fumio Kishida and Yun Byung-se, both bilateral and trilateral, and he met with Japan's Prime Minister Shinzo Abe.
He also talked with Liberal Democratic Party Secretary-General Toshihiro Nikai, former Japanese prime minister Yasuo Fukuda, and former Japanese chief cabinet secretary Yohei Kono.
That Wang, Kishida and Yun put their heads together on Wednesday showed that the three countries are aware of how important it is to continue talking, despite the thorny issues that have strained ties, in particular, Japan's maritime territorial disputes with China and the ROK, and the increasingly tense situation on the Korean Peninsula.
The Democratic People's Republic of Korea fired a submarine-launched ballistic missile in the Sea of Japan on Wednesday, which the three foreign ministers jointly condemned. However, the ROK has decided to deploy the US' Terminal High Altitude Area Defense anti-missile defense system, THAAD for short, in the name of countering the threat from the DPRK missiles, in spite of China's objections, which Wang reiterated when talking with Yun.
There is also Japan's revisionist attitude to its past that strains Japan's relations with its two immediate neighbors.
However, the three countries shared political will to continue dialogue and cooperation despite their acute differences, as evidenced by these ministerial talks, is both significant and important.
After a three-year hiatus, the leaders of China, Japan and the ROK convened in Seoul on Nov 1, 2015 for the Sixth Trilateral Summit, at which they announced that trilateral cooperation had been restored and pledged to resolutely sustain such cooperation.
Common ground has been found on disaster management, tourism, trade, the environment and ageing societies. And the three countries have reached consensus on the significance of an early ratification of their Free Trade Agreement.
It is important to note that approximately 20 percent of the world's gross domestic product comes from the economies of the three East Asian nations, and their exports account for 17.5 percent of global trade.
The region will host the Summer and Winter Olympics in the coming years, with the ROK city of Pyeongchang hosting the 2018 Winter Games; Tokyo hosting the 2020 Summer Olympics; and Beijing the 2022 Winter Games.
The three host countries should take these big events as good opportunities to encourage people-to-people exchanges, as these can fundamentally help change the dynamic of mistrust in the region by dispelling common misconceptions and cultivating understanding.
A change in the dynamics of relations in the region is certainly needed, for as Japan Times noted in an editorial, it says a lot about the current state of Japan-China relations that Wang's attendance at the meeting in Tokyo marked the first visit by a Chinese foreign minister to Japan since President Xi Jinping took office in 2012.
When Shotaro Yachi, Abe's key foreign policy adviser and the secretariat head of Japan's National Security Council, visited Beijing and met with Premier Li Keqiang and State Councilor Yang Jiechi on Thursday, Li told him that efforts should be made to bring bilateral relations back on the track of normal development.
Efforts in this regard would be timely as China and Japan are set to observe the 45th anniversary of the normalization of their relations next year and the 40th anniversary of the signing of China-Japan Treaty of Peace and Friendship in 2018.
The author is China Daily Tokyo bureau chief.
caihong@chinadaily.com.cn