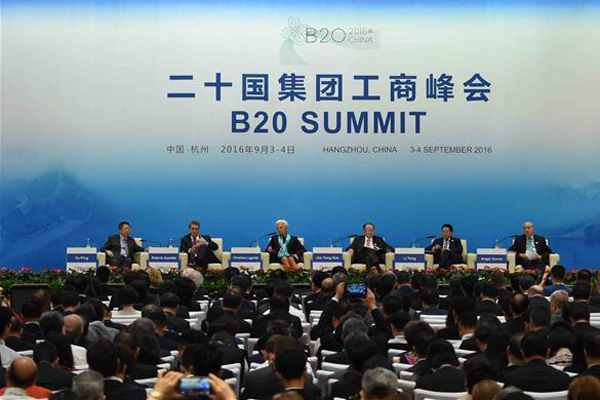 The Business 20 (B20) Summit starts in Hangzhou, capital of East China's Zhejiang Province, Sept 3, 2016. [Photo/Xinhua]
Innovation has been selected by the Chinese Presidency as a key theme for the G20. This move provides a new impetus to policy actions around the world to revive the global economy and achieve strong, sustainable and balanced growth. At a point where macroeconomic policies, especially monetary policy, have reached their limits, a new impetus is very much needed. Innovation can be a powerful driver of productivity growth, the only way sustainable long-term growth can be guaranteed. G20 countries committed to a series of ambitious structural reforms and actions encompassed in the Blueprint in support of innovation. G20 countries sign up to a commitment to support investment in the science and technology industry, which in itself can be important in reviving growth as in many parts of the world, especially some G20 economies, recent sluggish economic performance is caused by weakened investment. Ambitions however go much further: to foster exchange of knowledge and experience on innovation-driven growth, G20 Members endorsed the creation of the G20 Community of Practice within the OECD-WB Innovation Policy Platform. In addition, they adopted the G20 2016 Innovation Action Plan which outlines guiding principles and actions, such as the adoption of pro-innovation strategies, policies and measures.
A series of Action Plans was adopted in related areas such as the digital economy and the New Industrial Revolution. Also, more research has been called in those areas to be undertaken by international organisations, including the OECD. Measuring the digital economy, for instance, is still a challenge. Our knowledge on these new fields and their benefits are still limited, but G20 countries strive to achieve greater inclusion.
Innovation also features in the structural reform agenda to achieve strong, sustainable and balanced growth. G20 countries have adopted the Hangzhou G-20 Guiding Principles for Structural Reform setting out priority areas for structural reform. These principles will serve as high-level guidance to members when considering reforms in priority areas. G20 countries chose a dashboard of structural reform indicators, both reflecting outcome and policies. These indicators will serve to track progress in structural reforms and feed into a report to be submitted to G20 Ministers in 2017.
Innovation is a theme as important for China as it is for other G20 countries. Its importance can be best captured by the fact that China chose innovative development as one of the five key principles for the current Five Year Plan. The only feasible way to continue the impressive catching up is through innovation, as is recognised in the 13th Five Year Plan, which sets the target of becoming and innovative economy by 2020. Such a transformation presupposes the accumulation of sizeable stocks of the various types of capital: physical, human, institutional and social.