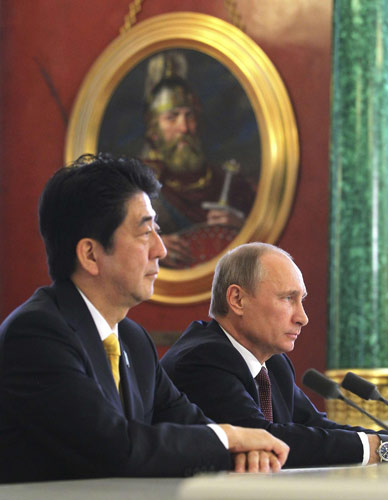 Japan's Prime Minister Shinzo Abe (L) and Russia's President Vladimir Putin attend a news conference at the Kremlin in Moscow April 29, 2013. [Photo/Agencies]
Although Japan is aligned with the United States and the two countries have formed a "united front" against Russia, it has not stopped Japanese Prime Minister Shinzo Abe from visiting twice this year the country suffering the consequences of the West's sanctions.
Abe met Russian President Vladimir Putin on the sidelines of the second Eastern Economic Forum in Vladivostok on Sept 2-3, which was initiated by Moscow to attract foreign investment to help develop its Far East.
Before leaving for Russia, Abe handed Japan's minister of trade, industry and economic affairs Hiroshige Seko the additional charge of the newly-created government department handling Tokyo's economic cooperation with Moscow. During his visit to Russia, Abe was accompanied by a 150-strong group of Japanese businesspeople, including Softbank founder and CEO Masayoshi Son and chairman of Japanese trading giant Marubeni, Teruo Asada.
Abe has suggested Japanese and Russian leaders hold annual meetings in the hope that increasing economic assistance would prompt Moscow to grant Tokyo concessions in the territorial dispute. Japan claims sovereignty over four Russia-controlled islands north of Hokkaido, which are called the Northern Territories in Japan and Southern Kuriles in Russia. And the territorial dispute has prevented the two sides from signing a peace treaty.
Abe has been courting Russia in the hope of resolving the territorial dispute and striking a peace deal. In its 2016 Diplomatic Bluebook, the Abe administration claims the development of Japan-Russia ties has contributed "to Japanese interests and to regional peace and prosperity". And at his meeting with Putin in Sochi, Russia, in May, Abe suggested a plan for economic cooperation, including investments in Russia's Far East.
Also, the two sides agreed to take a "new approach" to settle their territorial dispute but have kept the details confidential. Since it desperately needs continuous supply of energy, Japan stands to benefit immensely from close relations with Russia that has vast natural resources, including oil, gas and rare earth metals. Russia too needs foreign investments, especially to offset the impacts of plummeting oil prices and the sanctions imposed by the West after the Ukraine crisis in 2014.