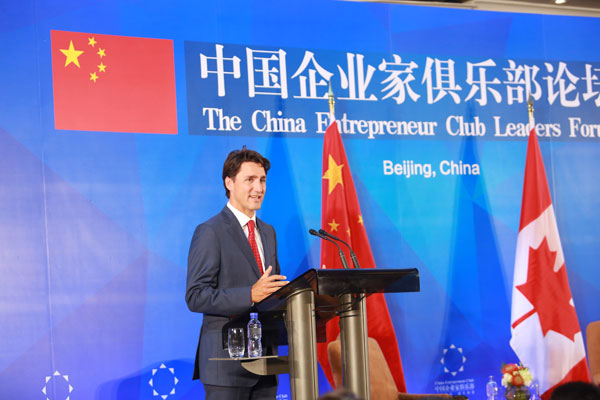 Canadian Prime Minister Justin Trudeau speaks at the China Entrepreneur Club Leaders Forum in Beijing, on Aug 30, 2016. [Photo by China Entrepreneur Club]
Canadian Prime Minister Justin Trudeau is on an eight-day official visit to China, during which he will be seeking to reset a "critical" relationship that was often bumpy during his predecessor's tenure.
He has called it an opportunity to build a closer long-term relationship with China after the "inconstant relations" under the previous government of Stephen Harper, which he said went from "hot to cold depending on the issue, depending on the day".
With this in mind, Trudeau said his government was "looking very favorably" at the possibility of joining the China-led Asian Infrastructure Investment Bank when he met with Chinese business leaders on Tuesday, citing his administration's strong belief in the "importance of investing in infrastructure".
On Wednesday in Beijing, Canadian Finance Minister Bill Morneau confirmed his country would apply to join the AIIB.
Some of Trudeau's domestic critics have claimed the move is simply a bid to curry favor with China. But even though it is a latecomer in seeking to join the bank-the AIIB already has 57 founding members-for Canada, it is a case of better late than never.
In terms of business opportunities, Canada could benefit greatly from membership of the AIIB, which plans to invest $100 billion in infrastructure throughout the region. And joining the AIIB would serve as a stepping stone for Canada to rebuild trust with China, which, once achieved, would usher in the "new era of positive collaboration" Trudeau hopes to cement with Canada's second largest trading partner.
Trudeau, who brought his daughter on the trip, said he hopes to pass along "friendship and the openness towards China" not only to his own children, but to future generations of Canadians, and if his goal of renewing his country's openness toward China is realized, there are big opportunities for the two countries to tap.
The huge Chinese market, with the world's biggest and ever-growing middle class, offers plenty of opportunities for Canadian companies, while Chinese entrepreneurs, with ambitious overseas investment strategies, will undoubtedly make Canada's agriculture, energy and culture sectors investment targets, further contributing to the bilateral trade on which half a million Canadian jobs are dependent.
Trudeau's visit has already achieved some positive outcomes, as reflected in the agreement over their spat about canola imports from Canada. Now the two countries should try and forge stronger and deeper relations and advance their discussions on their proposed free trade agreement.