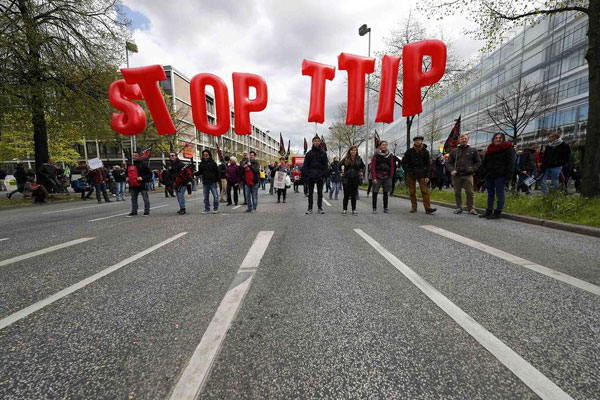 Protesters demonstrate against Transatlantic Trade and Investment Partnership (TTIP) free trade agreement ahead of US President Barack Obama's visit in Hanover, Germany April 23, 2016. [Photo/Agencies]
The EU and US representatives have held 14 rounds of talks in the past three years trying to reach an ambitious free-trade deal, but top French and German officials were criticizing the Transatlantic Trade and Investment Partnership negotiations.
The European Union, however, said the free-trade deal-originally supposed to be struck before US President Barack Obama leaves the White House-is still achievable. That was in response to Germany's Minister of Economic Affairs Sigmar Gabriel's remark on Aug 28 that, the talks had basically failed because not a single agreement had been reached, and "nobody is really admitting it".
In May, French President Francois Hollande had even warned that any deal that allows the US to invest freely in European public services should be rejected.
Normally, such negative statements are ignored because leaders are known to play political games to be in a better position during EU-US negotiations to decide to what extent they can penetrate one another's markets by lifting technical and tariff barriers, and progress toward the crucial stage of finalizing the text.
But it seems these are not just German and French negotiating tactics. Given the fast-changing trans-Atlantic situation, the TTIP appears to be facing great difficulties-from the worry that negotiators may not be able to finalize the text before Obama steps down in January 2017 to the fear that the talk swill fail completely because of unfolding problems within the US and EU. Reading the documents issued by the two sides, it is difficult to find additional common grounds between the US and the EU, although the talks on trade tariffs, investment market penetration and regulatory rules have covered large areas, including agriculture, the auto industry, services and other sectors.
Trade ministers from the EU countries have agreed to meet this month to discuss a follow-up strategy if they cannot reach a deal that would be a legacy for Obama, who wants to complete the TTIP and Trans-Pacific Partnership agreement before he leaves office. While both the Democratic and Republican presidential candidates in the US have questioned any free-trade deals, Brussels is running short of political means to expedite the talks.