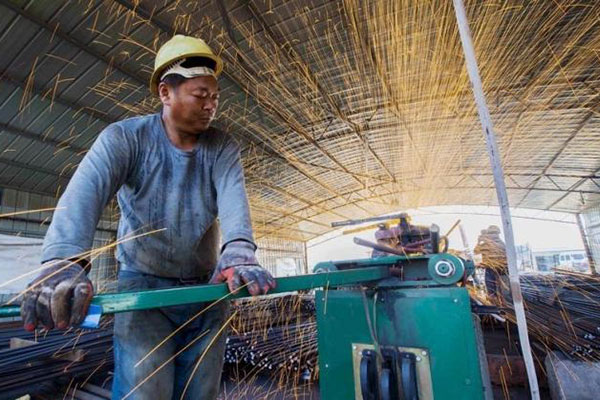 A labourer cuts steel bars at a railway bridge construction site in Lianyungang, Jiangsu province, September 12, 2015.[Photo/Agencies]
President Xi Jinping's government is committed to structural reform. China's leaders know that they can no longer rely on stimulating short-term demand. Already this year, annual growth in fixed-capital investment has fallen by 2.4 percentage points to 9 percent, with the private-sector investment up by just 2.8 percent.
The plan now is to implement supply-side structural reforms aimed at boosting productivity and improving the functioning of both the market and the State. However, given China's size and diversity, not to mention its deep integration into the global economy, communicating and implementing new policies across regions, sectors and social groups will be very difficult. If China is to succeed, its leaders will need to think beyond their traditional top-down approach.
Some 30 years ago, Deng Xiaoping used the slogan "delegating power and sharing dividends" to motivate local officials, State-owned enterprises and soon-to-be private entrepreneurs to embrace market-oriented reforms. A similar approach could work today, as China's leaders attempt to address the problems generated by the rapid expansion of imperfect markets managed by an imperfect bureaucracy.
Among the main problems China faces are over-leveraged local governments and SOEs, manufacturing overcapacity, excessive real estate inventory, rising production costs, corruption, inequality, environmental degradation and inadequate technological innovation. Supply-side structural reform is intended to address these problems, producing a more sustainable, inclusive, open and efficient economy.
But macro-level solutions alone might not be adequate to address supply-side structural problems, which often relate to the micro-level failure of business models, say, to produce adequate growth or productivity. In fact, in a mature market economy, those problems are addressed largely by businesses themselves, perhaps with the involvement of municipal governments.
In China, however, national policy shapes business models, most obviously in the case of the SOEs. That creates conflicts of interest, with the government struggling to balance the imperatives of growth, employment, efficiency and social stability.
In some parts of China, supply-side structural problems are being addressed on the micro level. In the cities of Foshan and Shenzhen in South China's Guangdong province, the private sector and local governments are dealing relatively effectively with such issues. And, tellingly, they have performed significantly better than the rest of the country. In the first half of this year, Guangdong's GDP grew by 7.4 percent compared to the 6.7 percent national rate. Private fixed-capital investment in the province grew by 19.6 percent compared to the 2.8 percent economy-wide figure.
This provides important insight into the approach that China's leaders must take to address supply-side structural problems throughout the country. Just as increased bureaucratic efficiency is important to harness market forces more effectively, micro-level market incentives are needed to sustain healthy growth.
For a country that has long relied on State control over the economy, this complicates matters significantly. Not only are there considerable differences in how markets work in different regions and sectors; the interaction between the State and these markets will undergo major changes. That can create far-reaching ambiguity, leading to tensions and confusion among officials, scholars, businesspeople and the public.
This issue was evident in the hostile takeover of China's top real estate developer, Vanke. The process has involved disputes among the incumbent executives, a private investment fund and an SOE shareholder, as well as a default on corporate bonds issued by the State-owned Dongbei Special Steel that has spurred disputes among the Liaoning provincial government, the China Development Bank, and many other investors. Markets do not know how to react to disputes over property rights that involve this many layers of government.
To minimize uncertainty, institutional reforms are needed. Specifically, the central and local authorities must clearly delineate property rights with regard to land, capital and natural resources, and establish industrial standards and best practices. Such clarity is critical to curtail a surge in disputes over rights, which block productivity-enhancing market-oriented adjustments.
Andrew Sheng is a distinguished fellow of the Asia Global Institute at the University of Hong Kong and a member of the UNEP Advisory Council on Sustainable Finance, and Xiao Geng, director of the IFF Institute, is a professor at the University of Hong Kong and a fellow at its Asia Global Institute.
Project Syndicate