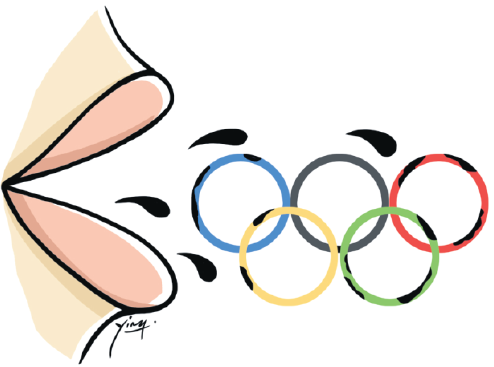 Wang Xiaoying/China Daily
Australian swimmer Mack Horton has made a big splash at the 2016 Olympic Games, not because of the gold medal he won in the men's 400-meter freestyle, but because of his comment against rival Sun Yang of China. Horton called Sun a "drug cheat" during an interview with the media.
Sun won the gold in the 400-meter freestyle and 1,500-meter freestyle at the London 2012 Olympics. Two years later, however, Sun was suspended from competitive swimming for three months by the China Anti-Doping Agency for taking a medicine containing a banned substance to treat his heart condition. Returning from the ban, Sun won three golds at the 2014 Asian Games in the Republic of Korea.
After Horton's interview, Chinese netizens rushed to his SNS account to protest against his groundless accusation. Chinese swimming team manager Xu Qi said Horton's accusation is a "malicious personal attack", and China's Olympic swimming team demanded an apology from the Australian swimmer.
The Australian Olympic swimming team, however, supported Horton, saying he "is entitled to express his point of view". And responding to the incident, International Olympic Committee spokesman Mark Adams said on Monday: "We support freedom of speech but ... at the Olympics it's also about respecting your rivals. There is a line somewhere between people (being) ... free to speak and (having) respect for others."
So does Horton spark a controversy only to ensure fair competition, as he claims?
Doping scandals are not new to sports. And everybody believes sports and sportspersons should be free of drugs to ensure fair competition. But what Horton has done outside the swimming pool is against the principle of sportsmanship, and his rant against doping seems only an excuse to hit out against his opponents.
Since the Olympic Games has a sound and effective anti-doping procedure to guarantee fair competition, Horton should have approached the anti-doping authority if he had any complaints against his rivals and waited for a fair judgment. By doing so, he would have followed the established procedure to fight against drugs and ensure fair competition.
But instead of doing that, Horton chose to make sensational comments against his rivals during the competition, in order to provoke controversy and affect his opponents' performance.
Sun's response to Horton's provocations has been reasonable: "on the Olympics' competition stage, every athlete deserves to be respected and there's no need to use these cheap tricks to affect each other", Sun said. Besides, Sun lived up to Chinese people's expectations by winning the 200-meter freestyle gold on Tuesday. At the London 2012 Olympics, American swimming team coach John Leonard questioned the merits of 16-year-old Chinese swimming gold medalist Ye Shiwen just because her performance was beyond expectations. But despite Ye never testing positive and the post-competition drug test proving she was clean, the speculations and rumors have refused to die.
In a BBC interview, iconic Australian swimming champion Ian Thorpe was asked to comment on Ye's remarkable performance only because she was too young to achieve the feat. But despite being Horton's compatriot, Thorpe defended Ye saying some Western people tend to question the performance of athletes from other countries because of their biased attitude.
Thorpe said he improved his timing by 5 seconds when he was just 16 but that didn't arouse the same amount of suspicion. "Let's remove nationality from this," Thorpe said in the interview, because it goes against the spirit of sports.
To propagate the spirit of sports, we should applaud the efforts of every athlete because that will be a true celebration of sportsmanship.
The author is a writer with China Daily. wangyiqing@chinadaily.com.cn