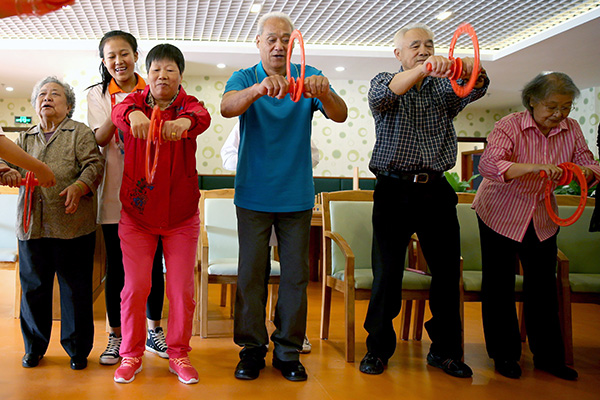 Senior citizens take exercises at a care home in Beijing. The number of beds at such institutions is far from sufficient in the capital. [Jiang Dong/China Daily]
As China presses ahead with supply-side structural reform to boost the tertiary industry and improve people's livelihoods, eldercare has become a potentially profitable business and a key factor promoting social harmony.
At the end of 2015, China had more than 222 million people above 60 years of age, or about 16.5 percent of the total population. And about 11 percent of them (24 million) were aged 80 years or above and 16 percent (37 million) were physically challenged or partially physically challenged.
The demand for special care for senior citizens is high, yet only a limited number of them (25 percent to 30 percent) can afford it. A 2014 study on old-age pension showed the average cost for a private nursing home was as high as 2,100 yuan ($320) a month while the average monthly pension of people who retired as employees of enterprises was just 2,000 yuan, and 60 percent to 70 percent of them received less than that.
As part of the supply-side structural reform, some local governments have started operating nursing homes as a vanity project, equipping them with thousands of beds-far more than needed. On the other hand, private investors such as property developers and insurance companies tend to build such homes in remote areas and charge considerable amounts for their services. And not surprisingly, both types of service providers, because of low occupancy levels, are struggling to even repay their loans.
Only a structural overhaul can fix this imbalance between supply and demand.
There is no reason to assume governments at different levels are obliged to provide financial support and land for old-age homes. To turn the potential demand of physically challenged senior citizens-not all but those who can afford to pay-into profitable market demand, the governments should offer social and commercial insurance, proper subsidies and favorable policies.
Besides, unused properties could be turned into eldercare establishments. Against the backdrop of the economic "new normal", running nursing homes can become profitable once the business is put on the right track. This is crucial because China's aging population is expected to peak by the middle of this century and remain at that level for another 50 years.
Normally, the profit margin of an old-age home with less than 400 beds can be between 5 percent and 8 percent, or even higher, if its occupancy rate is 80 percent or more. But it will take a few years and efficient management to make that sort of profit.
A successful nursing home should be able to provide moderate facilities, flexible accommodation and quality services. In other words, the acceptable monthly cost of old-age homes should be about 5,000 yuan ($751.5) per senior citizen in metropolises such as Beijing and Shanghai, and less than 3,500 yuan in other cities. The number of beds, too, should be between 200 and 400.
As for services, daily nursing care and rehabilitation, excluding medical treatment, should be the priority of all nursing homes, which would require them to employ trained nurses for the purpose; to meet the medical needs of the elderly they have to employ retired doctors.
And signing agreements with hospitals in the neighborhood to ensure fast-track medical treatment for senior citizens will be the cherry on the cake.
The author is a social policy researcher at the Chinese Academy of Social Sciences.