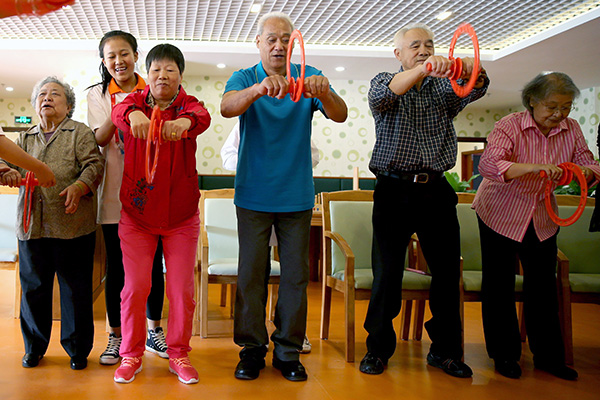 Senior citizens take exercises at a care home in Beijing. The number of beds at such institutions is far from sufficient in the capital. [Jiang Dong/China Daily]
BEIJING - China will encourage more hospitals to provide eldercare services and more nursing homes to offer medical care, according to an official document on Friday.
The Ministry of Civil Affairs and the National Health and Family Planning Commission jointly issued the circular on the approval procedure for setting up institutions that have both healthcare and eldercare services.
Applications from medical institutions that offer accommodation and care services for senior citizens will be granted preferential conditions in the approval procedure, it said.
Similar policies will also be available for applications from rest homes to establish senile disease hospitals, rehabilitation centers, traditional Chinese medicine services or terminal care institutions, the document said.
The circular called on relevant authorities to remove unnecessary barriers in the approval process, adding that collaboration between the two kinds of services will also be encouraged.