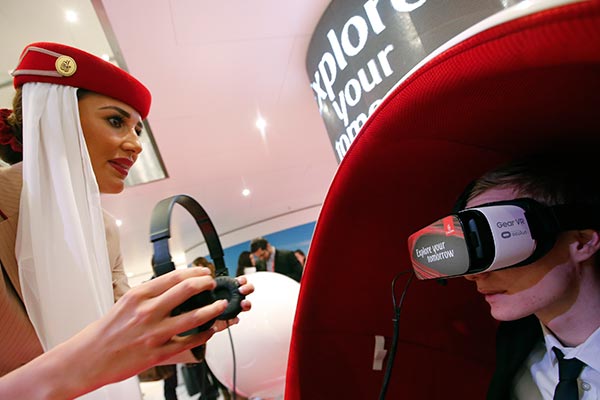 An Emirates Airlines flight attendant assists a visitor using a Gear VR headset created by Oculus and Samsung Electronics, at the airline's stand during the International Tourism Trade Fair in Berlin last month. [Photo/Agencies]

Report says the firm could open a VR online store this year
Oculus VR LLC, a virtual-reality company backed by Facebook Inc, is preparing to enter the Chinese mainland market, an achievement its parent company could not realize.
Less than a month after Facebook CEO Mark Zuckerberg visited Beijing to attend a high-profile business forum hosted by the government, a local newspaper reported on Friday that Oculus will kick off a VR online store as soon as this year.
"There's no obstacle for Oculus to launch an online store (on the Chinese mainland)," the 21st Century Business Herald reported, citing an unnamed source close to the company.
The California-based Oculus, acquired by Facebook in 2014 for $2 billion, did not respond to e-mails from China Daily for comment.
But there are too many signs its official launch on the Chinese mainland is around the corner.
In March, the Hong Kong arm of Oculus set up a $3.3 million subsidiary in Shanghai. The registration information from the Shanghai Municipal Administration for Industry and Commerce shows the new company will conduct electronics import and export businesses.
A Chinese-language website of Oculus is also active although it only introduces functions of VR hardware products including Rift, the flagship VR goggle.
The recruitment page on the site posted two Shanghai-based positions, one logistics coordinator and an engineer. High-knowledge of Chinese import and export regulations is required for the coordinator role.
Bian Tiecheng, an analyst from Cinda Securities Co Ltd, said China is poised to be a key market for global VR manufacturers.
"A number of local companies are trying to cement their presence in the young area while overseas giants are also targeting the surging demand," Bian said.
HTC Corp is accepting pre-orders from Chinese buyers for its 6,888 yuan ($1,060) VR set, including a headset, two wireless controllers and other accessories. Sony Corp and Microsoft Corp have expressed interest in the nation's VR market.
The major Chinese players include LeEco Holdings Ltd and Beijing Baofeng Technology Co Ltd, but they are targeting the budget market with devices priced as low as 79 yuan.
"The Chinese VR industry, including hardware, software and contents, is set to be a hotspot for investors in the long run," said Bian.
At least seven VR-related startups, including hardware and software makers, raised roughly 700 million yuan from venture capitalists last year, according to data from Analysys International, a Beijing-based industry consultancy.
The nation's VR market is projected to generate 850 million yuan in sales this year while the amount was 180 million yuan last year, said Analysys International. It estimated the size of the market could break the 2 billion yuan mark by 2017 because of robust entertainment demand.