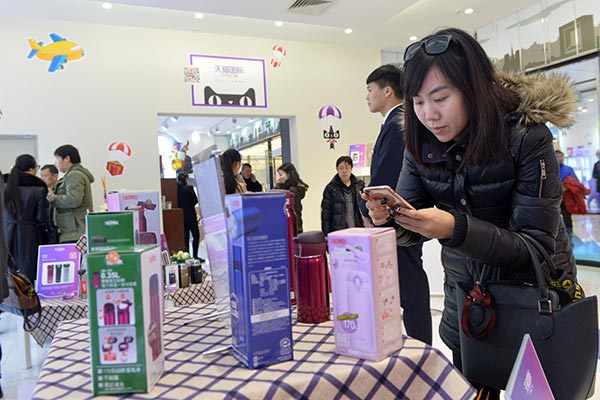 A customer buys imported goods at the Tmall cross-border O2O experience center at the China (Tianjin) Pilot Free Trade Zone.[Photo/Xinhua]
Leading Chinese e-commerce companies said they won't increase the prices of imported items in the short term, though a new policy, which took effect on Friday, raised tax rates on popular items such as food and baby products.
Alibaba Group Holding Ltd said food, baby products and health care products will be subject to heavier taxes after the adjustment.
"But many overseas brands and retailers on our platform don't have plans to raise prices in the short term so that consumers can gradually adapt to the change."
The Ministry of Finance published on Thursday a list of more than 1,100 imported items that will be subject to the new tax policy.
Among them are food, baby products, home appliances, cosmetics, clothing and shoes, items that Chinese consumers tend to purchase online.
The government unveiled the new tax policy last month which analysts said will increase the tax burden on low-end products while lower the tax rate for some premium items such as cosmetics.
The move is the government's latest effort to create a level playing field for online and offline sellers of imported goods, as currently retail goods purchased online are enjoying tax rates that are lower than those on other imported goods.
Mia.com, an e-commerce site dealing in imported baby and mom products, said on Friday that according to the new policy, consumers need to pay an extra tax rate of 11.9 percent for infant formula.
"But we will not raise the prices. Instead, we will cover the increased cost for our consumers," Liu Nan, CEO of Mia, said. But Liu declined to say whether this is a short-term solution or a long-term policy.
According to the company, orders for infant formula and paper diapers have surged recently as consumers are rushing to stock up products before prices go up.
Kaola.com, a shopping platform run by online gaming services provider NetEase Inc, said the company has in stock infant formula worth dozens of million yuan and will sell them at current prices.
The tax revamp comes amid a cross-border e-commerce boom in China as the growing middle class increasingly desires products of higher quality.
Tan Naixun, an analyst at Beijing-based Internet consultancy Analysys International, said overseas shopping agents will benefit from the tax adjustment.
"The new policy does not apply to overseas shopping agents, so their products are now, in fact, subject to lower tax rates than those sold on e-commerce sites."
Liu Xiaoyan, a 33-year-old programmer in Hunan province, has a 1-year-old son. She said: "I will definitely turn to overseas shopping agents if products become more expensive on e-commerce sites."
Meng Jing contributed to this story.