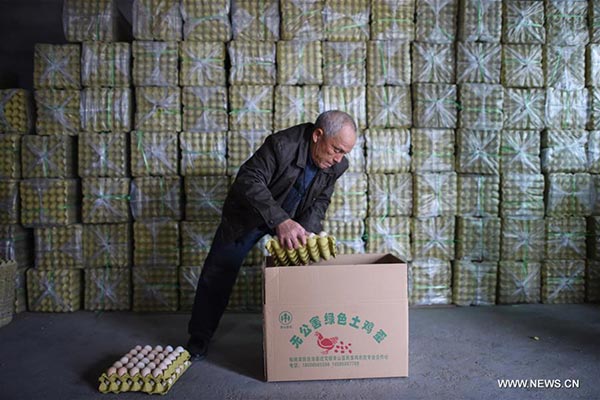 A worker of the Fumin chicken farm packs eggs for sale in Songtao Miao autonomous county of Tongren, southwest China's Guizhou province, Feb 25, 2016. [Photo/Xinhua]
The government is mapping out plans to use the Internet to lower logistics and distribution costs and promote e-commerce in rural areas, a top official said on Friday.
"We will continue to increase investments in construction of rural broadband networks ... and support companies building cold chain systems for the distribution of agricultural products," said Wang Bingnan, an assistant minister of commerce.
Efforts will also be made to promote online sales of farm products and to encourage e-commerce companies to expand their rural networks.
Wang added the channels that make rural products available in cities will be broadened and market players will be encouraged to integrate their logistics resources.
Efforts such as fostering a smart logistics system, building a cloud platform for commercial services and integrating online-to-offline development were mentioned in a statement issued after a State Council meeting chaired by Premier Li Keqiang on Wednesday.
Wang added that developing e-commerce will help improve rural life, solve agriculture issues and alleviate poverty.
There are some problems related to rural e-commerce - the infrastructure is very weak and there is a shortage of professionals to handle the business.
"The standardization and competitiveness of agricultural brands are not strong. Moreover, the rural market is not well regulated," Wang added.
E-commerce giants like Alibaba Group Holdings Ltd, JD.com Inc and Suning Commerce Group have strengthened their layouts in rural areas. JD has launched a series of initiatives in a poverty-stricken area of Guizhou province to help the sales of local agricultural products and handicrafts.
"The measures to boost the development of rural e-commerce will create job opportunities for local people, improve their life quality and increase the income of farmers," the company said, adding that JD will seize the opportunity to expand and enhance its services.