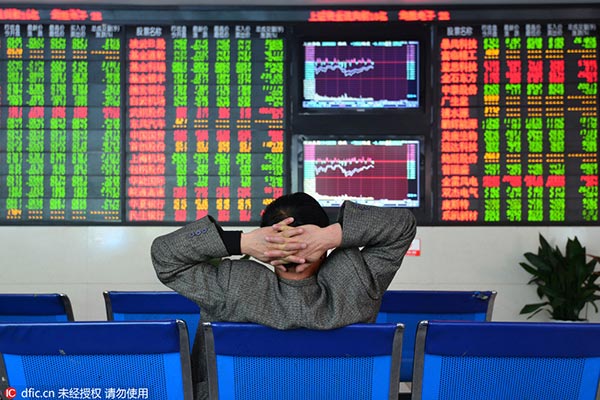 An investor watches an electronic board showing stock information at a brokerage office in Fuyang, East China's Anhui province, April 8, 2016.[Photo/IC]

Friday's decline led by consumer and industrial stocks, but Shanghai index still 12 percent ahead since March
Fears that a selling ban imposed on major shareholders of listed companies will expire soon are unfounded, an analyst said as the Chinese stock market declined for a third day on Friday.
The benchmark Shanghai Composite Index dropped 0.8 percent to close at 2,984.96 points after rebounding 12 percent in March.
The market sentiment has been dampened by fears that a selling ban imposed by the securities regulator when the market suffered a sharp volatility in January will expire this month. The ban stipulated that major shareholders of listed companies can sell no more than one percent of the company's total shares within three months.
Jiang Jinfeng, an analyst at Essence Securities Co, said in a research note to investors that the fear is unfounded, noting that the three-month requirement only refers to a time frame and it did not mean that the ban would expire in three months.
"It will unlikely trigger a massive selling," Jiang added.
Friday's decline was led by consumer and industrial stocks. Concerns also emerged that the inflation data scheduled to be disclosed on Monday may constrain the government's monetary policy.
They are projected to show the Consumer Price Index climbed to 2.4 percent in March, according to Bloomberg.
"The market is speculating that the central bank won't have too much room for easing monetary policy, given the current inflation situation," Wang Chen, a partner with Xufunds Investment Management Co in Shanghai, was quoted by Bloomberg as saying.
Separately on Friday, the China Securities Regulatory Commission revised the risk control rules for securities firms to improve the effectiveness of its oversight.
The revised rules require a minimum capital leverage (core net-capital-to-total-asset ratio) of 8 percent. The regulator lowered the minimum requirement on net-asset-to-total-liabilities ratio from 20 percent to 10 percent and reduced the requirement for net-capital-to-net-asset ratio from 40 percent to 20 percent.
Some industry analysts said while the revised rules could unleash more capital from the securities firms into the market, it also intends to optimize the risk control indicators and to enhance the effectiveness of the regulation system in accordance with the changing situation in the market.
"The exiting system can no longer meet the need of risk management. It is necessary to improve it to make regulation effective and sustainable," Zhang Xiaojun, the CSRC spokesman told a news conference on Friday.