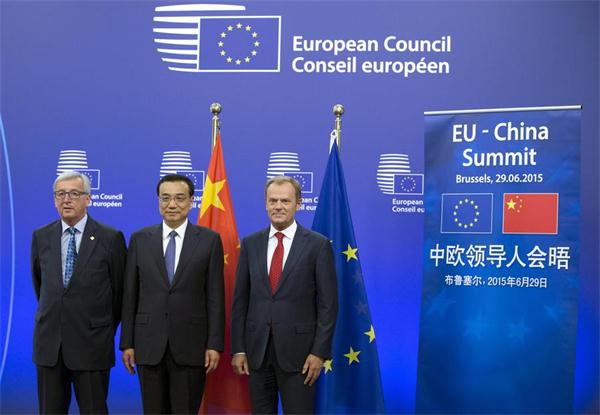 European Commission President Jean-Claude Juncker (L) and European Council President Donald Tusk (R) welcome Chinese Premier Li Keqiang at the European Council headquarters ahead of of an EU-China summit in Brussels June 29, 2015. [Photo/Agencies]
I am in China this week to meet with the Chairman of the National Development and Reform Commission to work on further improving the connectivity between China and the European Union. I am also attending the Annual Meeting of the New Champions-World Economic Forum in Tianjin.
China is the world's most important economic and political emerging power and a key partner for the European Union. The Belt and Road Initiative illustrates the country's geostrategic vision and the European Union is working closely with China to make this initiative a success. We have also identified a number of synergies between the EU's policy priorities and China's projects and we are working together in the framework of the EU-China Connectivity Platform. We have agreed to cooperate on the basis of openness, reciprocity and the full respect of our respective laws and regulations.
Our common aim is to advance connectivity along the Eurasian landmass. Cooperation is therefore key, not only to improve and expand physical infrastructures, but also for the convergence of our respective policies, standards and regulations.
Connectivity is also about enhancing market access for foreign companies and developing new business models for the digital era. The World Economic Forum is an exciting opportunity to follow the latest trends with leaders from business, government and academia. The industrial transformation brought by digitalization and disruptive business models or the strategic changes in the field of mobility, such as self-driving cars or the electrification of transport, are two important issues I am discussing. These are global challenges that require an international discussion.
From a broader perspective, connectivity is the basis on which we are building a "new agenda" for EU-China relations, an agenda fit for a new era-with openness and reciprocity at its core.
This agenda includes deep collaboration in other important areas. On the economic front, investment is an essential element, with China's participation in the European Investment Plan. The EU is also keen to further deepen its aviation relations with China through an EU-China aviation agreement, which would among others improve market access and provide new business and investment opportunities. Others include the digital economy, innovation or climate change.
The political dimension of our cooperation is rich. It concerns, for instance, international governance, through the membership of many EU Member States in the Asian Infrastructure and Investment Bank promoted by China, and through our support for China's G20 presidency. The same goes for foreign and security policy cooperation: a safe and secure environment is a prerequisite for greater connectivity between the EU and China across the Eurasian landmass.
Since our cooperation is so rich, it is not surprising that several of my colleagues will also visit China very soon, in the run-up to the upcoming EU China Summit, to be held in Beijing in less than three weeks. This Summit meeting will build on many aspects of this rich agenda to ensure we contribute to each other's success-to the benefit of our two peoples.
The author is European Union Commissioner for Transport.