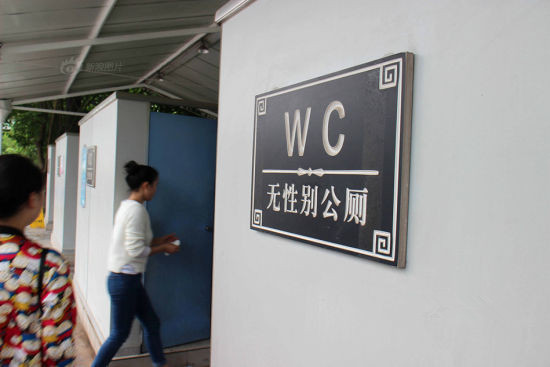 A woman walks into a unisex public restroom in Chongqing on April 15, 2015.[Photo/CFP]
Thursday is China's sixth National Tourism Day. China's domestic tourism market has been booming in last decade, with a 10 percent annual growth on average and spending is expected to reach around $890 billion by 2020.
However, the bottleneck in China's domestic tourism market is now none other than its "inadequate, dirty and chaotic" toilets. As Li Jinzao, head of the China National Tourism Administration, has pointed out, a dirty toilet destroys the efforts of all kinds of tourist resort promotions and their negative impact is hard to erase.
That was why, the CNTA launched a nationwide three year "Tourism Toilet Revolution" in January 2015, with the goal of building and reconstructing 57,000 public toilets by the end of 2017. Only last year, more than 20,000 new toilets were built.
Actually, Beijing's 2008 Olympic Games was the beginning of China's toilet revolution. In an effort to ensure their success, the Chinese government invested billions of yuan in building 4,000 new public toilet facilities to world-class standards. To showcase the great progress that was made, Beijing hosted the World Toilet Summit in 2004, with the help of the World Toilet Organization.
There is no doubt the Chinese government has the capability to deliver any ambitious infrastructure commitment quickly. But it is the software that is critical to the success of the toilet revolution. China's toilets are generally "unevenly scattered, poorly managed and low in quality".
That could be remedied by following the "ABC" rule, namely architecture, behavior and cleaning.