'Toilet revolution' must flush away bad memories
Travel should be a process of making sweet memories.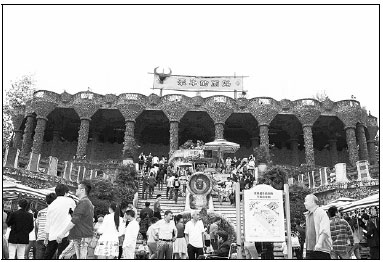 A public toilet at a tourist resort in Chongqing, southwestern China. The facility is designed to look like a fairy-tale style European castle and naturally ventilated.Chang Shixu / For China Daily
Jeniffer Smith and her husband, a couple in their 60s from Australia who encountered an unpleasant experience when answering the call of nature during their trip to China a decade ago, were impressed by the changes in public toilets during a recent visit.
"We were surprised and happy to find that toilets in tourist resorts have become clean, supplied with toilet paper and hand-washing lotion. It is nice to see some of the toilets were designed and built with beautiful Chinese architectural styles."
Visits to several tourist destinations with my friends last year, Ningbo in Zhejiang province and Chengde in Hebei province, for instance, also challenged my former impression of public toilets, which often turned out to be a nightmare experience in the past.
While adopting Western concepts of public toilets which provide basic functions such as hand-washing and baby care areas, many designers have introduced Chinese architectural styles and care for the environment in locating and constructing the toilets.
You feel like entering a garden when approaching some toilets at tourist resorts in Ningbo and getting inside, they have solar lighting, and some of the facilities are computer-controlled.
In Beijing, the municipal government has introduced next-generation public restrooms which provide Wi-Fi, vending machines, ATMs and flat-screen TVs. City officials said they will learn from Japan to provide basic physical examinations in the restrooms, such as checking of blood pressure, heart rate and urinalysis, in the future.
All these changes should be attributed to a "toilet revolution" launched early last year by the Chinese government. The goal is to build and reconstruct more than 50,000 public toilets in major tourist resorts and busy public places across the country within three years. In just one year, more than 20,000 new toilets have been built.
Domestic firms have volunteered to construct new toilets and some local governments have introduced the business model of letting local companies to operate and maintain the toilets.
The Bill & Melinda Gates Foundation, which has been active in toilet welfare activities around the world, has teamed up with the National Administration for Tourism for research on the introduction of technology and skills of building ecologically and environmentally friendly toilets in remote inland plateau provinces.
As one of the four birthplaces of world civilization, China has rich tourism resources and is highly attractive to overseas tourists. Last year, more than 130 million overseas tourists visited the country.
With tourism becoming a pillar industry for most cities in China, local governments have made huge efforts to refurbish tourist resorts and promote them both at home and abroad in recent years, but many have ignored the services of public toilets.
I think the "toilet revolution" shows that the top tourism authorities have acutely recognized the urgency of the problem.
The backward situation of toilet construction and management shows how serious the gap is between China and a strong world tourism power and how far the nation has lagged behind developed nations with modern lifestyles. A dirty toilet can destroy the efforts of all kinds of tourist resort promotions in a trice and the negative impact is hard to erase, said Li Jinzao, head of the National Administration for Tourism.
It is encouraging that some places like Jilin and Zhejiang provinces are learning from the practice of Germany in renting the rights of the day-to-day management to local companies.
I think the government can adopt a similar national competition mechanism in operating public toilets. Companies, through bidding, can win the rights for public toilet management and in return, promote their products in the toilets or do other profit-oriented promotions.
This mode of management will hopefully generate a huge commercial market and many new jobs.
And good management must be guaranteed because it is of vital importance to sustain the achievements of this "toilet revolution".
In addition, relevant rules and regulations should be drafted and strictly observed by toilet users and managers to ensure that the toilets always remain a clean and comfortable place to visit.
Contact the writer at mazhiping@chinadaily.com.cn