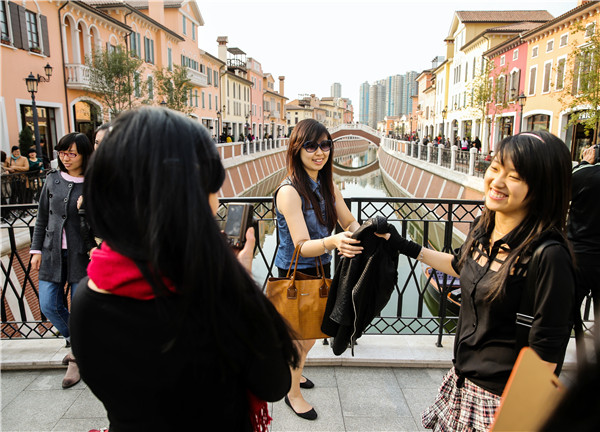 People take photos in the Florentia Village outlet in Tianjin. The shopping center was built to reflect the style of the Renaissance. PROVIDED TO CHINA DAILY
The central government will prevent local authorities from unnecessarily changing the names of roads, bridges, buildings and residential complexes, especially with capricious foreign and bizarre names, Li Liguo, the minister of Civil Affairs, said at a recent conference on geographical names.
Arbitrary use of geographical names has become common in many parts of the country. Many traditional toponyms have disappeared since the reform and opening-up were launched more than three decades ago. According to the second survey of national geographical names in 2014, more than 60,000 town names and more than 400,000 village names have been changed since 1986.
Many geographical names including names of roads, streets and buildings in various local areas are quite same, which lose regional and geographical characteristics and cultural meaning of local areas. For instance, almost all Chinese cities have named at least one newly built residential complex after Rome or Venice.
Geographical names carry important cultural and historical meanings, thus the toponym clean-up campaign nationwide has won wide public support. But reflecting on the reasons of the chaotic phenomenon of geographical names is as important as the campaign itself. Why Chinese geographical names have been arbitrarily changed over the past few decades even though they are of great cultural and historical significance?
The drastic change and reduction in traditional geographical names have something to do with rapid social transition, especially urbanization. Social changes can often result in the change of geographical names, as many new cities are built at the cost of disappearing countless villages and towns.
Since China will further promote urbanization during the 13th Five-Year Plan (2016-20) period, the authorities should realize the importance of the geographical name regulation, because there remain some loopholes in the administration and regulation of geographical names.