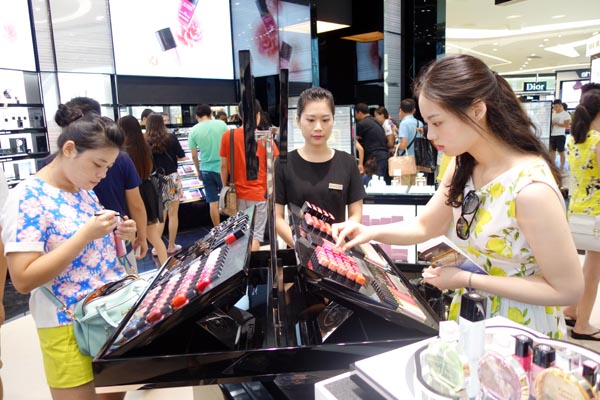 Tourists select cosmetics at Sanya Haitang Bay International Shopping Mall.[Photo by Huang Yiming / China Daily]
To turn domestic consumption into an engine powerful enough to make up for the slack of other growth drivers, lawmakers and policymakers should make full use of the ongoing session of the National People's Congress, China's top legislature, to boost and meet consumers' upgraded demand for quality goods and services.
The increasing importance of consumer-led growth has become more manifest than ever with Premier Li Keqiang announcing on March 5 that the country's growth target for 2016 is between 6.5 and 7 percent and that for the years up to 2020 is 6.5 on average. Since China's twin growth engines of exports and fixed-asset investment are unlikely to deliver as much as they used to in the face of growing global headwinds and the economic transformation at home, only consumption-led growth has the potential to rise rapidly to keep the world's second-largest economy on the track to achieve those growth goals.
China's ascent as a global trading power since the turn of this century made double-digit export growth a key propeller for its GDP growth. But the failure of the world economy to rebound strongly from the 2008 global financial crisis has increasingly darkened the prospects for global trade growth.
According to the Organization for Economic Cooperation and Development, global trade shrank significantly in 2015 as exports fell by 11.3 percent and imports by 13.0 percent. Worse, all G20 economies saw declines in both imports and exports last year.
Under such circumstances, it would be unrealistic for China to pin much hope on the illusive growth potential of the trade sector. In fact, latest statistics show the country's exports in February suffered the worst fall since May 2009 and foreign trade in the first two months was 12.6 percent lower year-on-year at 3.31 trillion yuan ($508.75 billion).