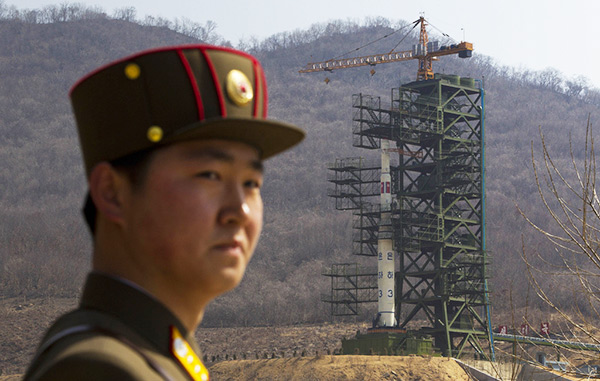 A DPRK soldier stands in front of the Unha 3 rocket at the launch site in Tongchang-ri, on April 8, 2012. [Photo/IC]
The Democratic People's Republic of Korea on Monday warned of preemptive nuclear strikes against the United States and Republic of Korea in response to their joint military exercise, which began on the same day and will continue to run through April 30. Tensions on the Korean Peninsula have been rising after Pyongyang conducted its fourth nuclear test two months ago and launched a long-range rocket on Feb 7.
In a show of defiance against the harsh sanctions imposed by the UN Security Council on March 2, the DPRK fired six short-range projectiles into the sea a day later. The latest UN resolution broadens the scope of financial sanctions and arms embargo on the DPRK, demanding that the country abandon all its nuclear and ballistic missile programs, and disassemble its nuclear weapons and weapons of mass destruction.
The US and the ROK have reiterated that their joint military drill, codenamed "Key Resolve" and "Foal Eagle", is routine and defense-focused, and they still want to convey a message of deterrence to the DPRK and other parties, in order to maintain regional security.
In fact, the joint exercise, reported to be conducted on the largest-ever scale involving a slew of cutting-edge weapons, has brought the peninsula one step closer to regional conflicts. To "deal with" Pyongyang's recent nuclear test and satellite launch, Washington has been expediting its military deployment on the Korean Peninsula. The US military sent a long-range B-52 bomber and later four F-22 fighter jets, which are all capable of carrying nuclear bombs, over ROK's airspace after the DPRK launched the long-range rocket last month.
Many navy vessels such as the USS John C. Stennis, a US nuclear-powered aircraft carrier, are also reportedly in position to take part in the joint drill, in an apparent warning to Pyongyang. The US is said to also mobilize some 17,000 troops, more than double the number of previous years, and deploy a combat aviation brigade and an expeditionary Marine brigade for the drill.