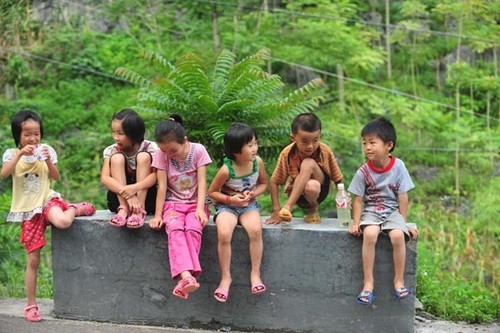 Qin Xiaohui (R) plays with the other children in his village on July 5, 2012. Qin Xiaohui, then 6, lives in Banlie Village of Bansheng Township in Dahua Yao Autonomous County, south China's Guangxi Zhuang Autonomous Region. [Xinhua]
A journalist, Zhou Xiaoyun, recently sued the Bijie municipal and Guizhou provincial governments because they failed to publicize how they had used 177 million yuan ($26.9 million) in funds specially allocated to help left-behind children. The local officials responsible should be held accountable for any misuse of funds, says Beijing Youth Daily:
Five children died of carbon monoxide while trying to make fire to keep themselves warm in a garbage can in Bijie in the winter of 2012. The public anger at the tragedy prompted the local government to promise to spend 60 million yuan each year to help left-behind children whose parents work far away from home.
Yet another four left-behind children committed suicide last June by drinking pesticide because of their extreme poverty. Zhou requested the local government to disclose how the money, which should have amounted to 177 million yuan by now, had been used. When the government said such information did not exist, Zhou took the Bijie and provincial government to court to find out.
Everybody knows the need to help the most vulnerable in society. That's why the public needs detailed information about the 177 million yuan the Bijie government said it was spending in helping left-behind children - we want to know whether local bureaucrats have performed their duty.
However, the local government's unwillingness to say how it has spent the money has raised doubts about its sincerity and speculation about possible corruption. Worse, the local government might never have honored its promise to help the left-behind children.
The Bijie officials need to pay the price for any misdeeds or their failure to honor their promise in any way. The two major tragedies have already reminded people of how miserable left-behind children can be and local officials cannot afford to hide their heads in the sand any longer.