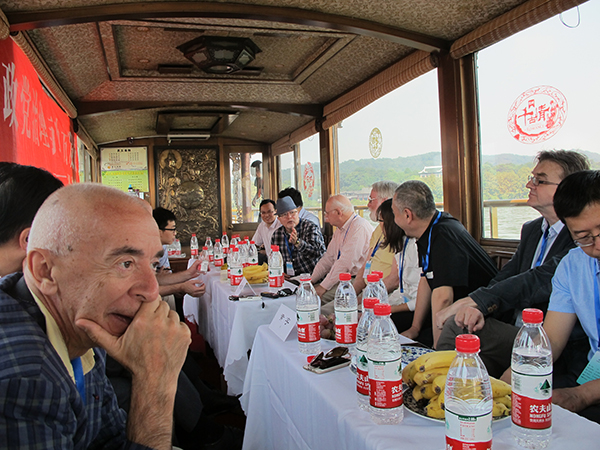 Participants at "The Party and the World Dialogue 2015" holding a salon discussing "Political Party Governance and Local Development" by the West Lake in Hangzhou, East China's Zhejiang province on Friday. [Photo by Wu Yan/chinadaily.com.cn]
Chinese Communist Party General Secretary Xi recently presided over a party meeting on party discipline and vows to strengthen party discipline in order to improve the official conduct of party officials.
This is an indication that the Chinese Communist Party leadership has realized the consequences of the relaxation of Party discipline in the context of economic reform and opening up, and will take some tough measures to rein in party officials' conduct and behavior.
The Chinese communist party is one of the most disciplined political parties known in history. From the very beginning, the Chinese Communist Party developed effective discipline measures for its members and relied on the enforcement of these discipline measures for the effectiveness of the party.
The Chinese Communist Party was able to grow from its humble beginning and eventually win national power, partly because of its strong discipline measures. In order to continue its mission as a party serving the Chinese people, the Chinese Communist Party continued to enforce its discipline among its members after winning national power.
In the early 1950s, right after the Chinese Communist Party came to power, Chairman Mao Zedong presided over the decision to sentence two veteran revolutionaries, Zhang Zishan and Liu Qingshan, Party Secretary and Head of Tianjin Prefecture Government then, to death for their corruption.
At the beginning of China's economic reform and opening up, the Chinese Communist Party leadership decided to give priority to economic development. Economic performance took precedence over party officials' moral conduct.
To some extent, the party put economic development ahead of educating members about party discipline. As a result, many Chinese communist officials have fallen victim to corruption. They forget the party's mission and discipline. Their misconduct has damaged the party's reputation, and eroded the trust the Chinese people placed in the party.
The incumbent Chinese Communist Party Leadership's decision to stress the importance of party discipline and reign in official conduct is very timely and wise. With over eighty million members, the Chinese Communist Party is the largest political party in the world.
It has been serving as a leadership core for the China in the last sixty-seven years. What China has accomplished in the past six decades has largely been because of the leadership of the Chinese Communist Party. Now the Chinese leadership is taking measures to strengthen party discipline. We have reason to believe that the Chinese Communist Party will be able to provide better leadership for China's future.
The author is a professor at Warren Wilson College, North Carolina, and a guest professor at Hebei University.
The opinions expressed here are those of the writer and don't represent views of China Daily website.