Hollowed out village in NE China and the left-behind elderly
( ejilin.gov.cn )
2015-12-11
The village of Xinrong has no primary school, just tiled roofs, a narrow cement road, and a water pipe and it has no primary school because it has few children of school age, since many of them have followed their parents who go to big cities to work and where there are schools with better facilities and teachers.
The village is near the city of Tonghua in southern Jilin province and is home to many Koreans and a small number of Han. Years ago, it had more than 1,000 villagers, but now that's down 30-fold, and, according to Wang Yonggang, the Party secretary, "Many young people have gone to South Korea to work, leaving the elderly behind. The youngest is 52 years old."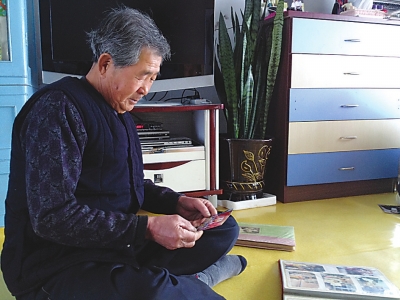 Hong Wanfu, one villager in Xirong, looking at his family photo whenever he gets free. [Photo by Chenmo/Xinhua]
Xinrong does in fact have virtually everything it needs, with a clinic, shops and barbers, and construction work has begun on a nursing home, but many villagers have transferred their land rights to others and have left. In commenting on this, Wang explains, "They're dazzled by the splendor of big cities, particularly those who go overseas to earn about 10,000 yuan ($1,600) a month."
Xinrong is not an easy place to live. The old people cook their own meals, do the household chores and stick to the familiar environment, for example, Hong Wanzhuo and Yin Yingshu, who are in their 70es, and whose three children have gone to South Korea, while their granddaughter goes to a high school in the nearest town.
"They only come back to spend a few days with us during the Spring Festival, even though we wish they could visit us more often," says Hong emotionally, then his wife chimes in with, "Although my son has asked us to move to the city, we don't want to, because we're used to life here."
The Hongs aren't alone in their misery since there are others in the same shape, and for them, no matter where you roam, home is still the best.
For example, Li Zaimin who returned to Xinrong in 2012 after spending years as a migrant worker. He was one of the first to leave the village and made enough money to buy an apartment in the city, but prefers Xinrong for its fresh air, familiar neighborhood, and his backyard.
Or, in the words of Wang, the Party secretary, "It's not easy to simply leave here for someone who has spent decades here. They bond with the land."
The large number of deserted houses seems to suggest that if there is a doubt about whether to stay or not, young people choose not to stay without hesitation, to get a look at the outside world and to get a better life. These "hollowed-out villages" are not rare in the Northeast, but they can be found elsewhere in China as well, for example, Shandong province in the East, where there has been an increase in the number of migrant workers and 20 - 30 percent of the villages hollowed-out.
A senior Jilin agriculture committee member, Dong Guoquan, explains, "This hollowed-out village phenomenon is a product of urbanization," then, goes on to say that there is no clear-cut solution but it is tied to such things as employment, family income, and agricultural development.
Dong concludes by saying, "Making agriculture more attractive and competitive is crucial, so people can come back and choose to stay, but right now, [we] need more support for those left-behind old people."
From its appearance, Xinrong is not falling – it has clean streets, tiled roofs, and sheds placed against every house to keep it warm in winter.