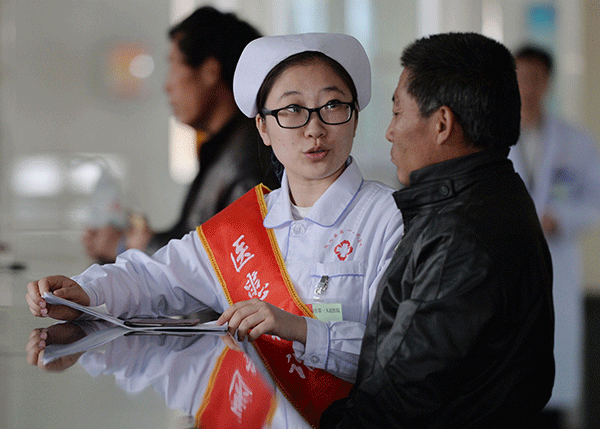 A nurse explains how to claim reimbursement from the national medical insurance program in Longxi County No 1 People's Hospital in Gansu province.[Photo/Xinhua]
China's medical insurance system is in trouble. Simply put, it will not make ends meet in a few years if no steps are taken.
The medical insurance fund has failed to keep up with the surging rise in medical expenses that have been growing at a double-digit rate each year. According to the Chinese Academy of Social Sciences, it is going to see a shortfall nationwide around 2020 at the latest if things continue as they are.
This has led to calls for people's contributions to the fund to be increased and for the government's contribution ratio to be raised. However, the latter has prompted concerns that it might put strain on government finances and even suggestions that it might later lead to "excessive social welfare". Yet such concerns are unwarranted because the level of social security in China remains low.
While it is no surprise that some experts have suggested people should have to contribute more to the fund, higher personal contributions seem unrealistic.
An average employee in the Chinese mainland already pays around 40 percent of his or her income for basic welfare that covers their medical care, pension, housing and unemployment insurance. This situation makes any talk of higher contributions from them impractical, and risks scaring away those who are yet to join the system.
Looking at the pockets of the general public should be the government's last resort.
However, there is still a lot that the government can do to make the medical insurance system sustainable, without increasing employees' contributions.
The administrative costs of the fund are many times more in China than in developed countries, leaving much room for improvement in terms of cutting costs and raising efficiency. This requires not only a high level of transparency in which the system is operated, but also markedly improved management skills.