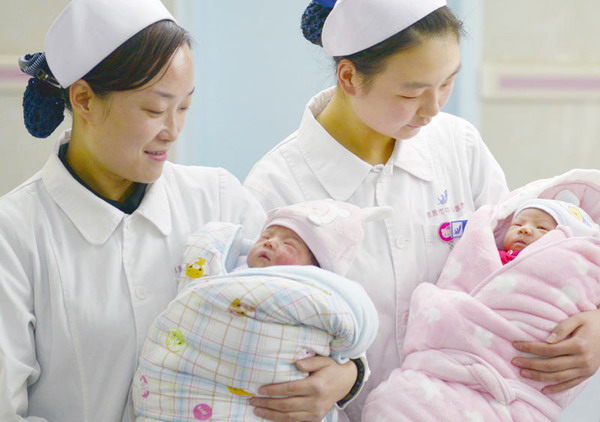 Obstetric nurses in the Central Hospital of Enshi, Hubei province, take care of newborns at the hospital. Couples in Enshi are allowed to have two children. Li Yuanyuan / for China Daily
It's official. China has put an end to its strict family planning policy which allowed most of the couples to have only one child. From Jan 1, all couples can have two children.
But a policy change will not be enough to address China's pressing demographic challenge. One clear lesson from across Asia is that as countries grow wealthier, more of their citizens delay having children, or any child at all, in order to focus on their careers and other goals.
The pressures behind the policy change by China are clear. The country now faces a slowing economy, a rapidly aging population and a dramatically shrinking workforce. While its population is nearly 1.37 billion, its working-age population-defined as 15-to 64-year-olds-is dropping. And this, along with other demographics, now constrains China's once rapid growth.
This is just one unintended consequence of the country's strict family planning policy, and its at times brutal enforcement. By 2030, China is expected to have more than 243 million people above the age of 65-an 85 percent increase over today's number.
Yet, as in Singapore, today's China is likely to realize that policy pronouncements are not enough to change anytime soon the social norm of having less rather than more children. As Chinese people move up the income ladder, payouts and penalties are likely to have declining power to change their behavior.
When it comes to the most personal of decisions-how many kids to have-Singapore's struggles to first lower and then spur the birth rate are particularly instructive. Policies even from the most effective of governments do not necessarily generate the expected results.