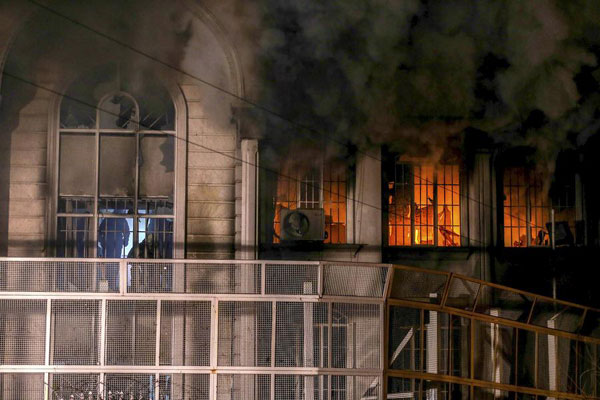 Flames and smoke rise from Saudi Arabia's embassy during a demonstration in Tehran January 2, 2016. Iranian protesters stormed the Saudi Embassy in Tehran early on Sunday morning as Shi'ite Muslim Iran reacted with fury to Saudi Arabia's execution of a prominent Shi'ite cleric. [Photo/Agencies]
The feud between Saudi Arabia and Iran sparked by Saudi Arabia's execution of a Shiite cleric shows no sign of abating.
After Saudi Arabia announced it was cutting diplomatic ties with Iran on Sunday, Bahrain and Sudan followed suit and severed their diplomatic relations with Iran.
The abrupt deterioration of ties between Saudi Arabia and Iran was triggered by Saudi Arabia's execution of 47 individuals it had convicted on terrorism charges, including a prominent Saudi Shiite cleric, Nimr al-Nimr.
Angry Iranian protesters stormed the Saudi Embassy in Teheran on Saturday and set fire to it. In response, Riyadh announced it was severing ties with Teheran, and it ordered Iranian diplomats to leave within 48 hours.
With Saudi Arabia ruled by Sunni Muslims and Iran run by Shiite Muslims, ties between the two countries have remained cool, if not tense, in recent years. But the latest souring of relations between the two major countries in the Middle East has heightened tensions to their highest point in years.
Judged by the norms governing international relations, the action of deliberately damaging a country's embassy is sure to cause a severe setback in bilateral ties. But that does not necessarily mean severing ties is the appropriate response.
In September 2012, armed men stormed the US diplomatic compound in Benghazi, Libya, killing four Americans including the US Ambassador to Libya Christopher Stevens. As the United States was the mastermind behind a regime change in the country, it did not respond with cutting ties with Libya.
If history is a mirror, Saudi Arabia seemed to be overreacting to the torching of its embassy in Iran. After all, Teheran did not want the incident to continue to fester and acted quickly to deal with the incident, announcing 40 people had been arrested on suspicion of taking part in the attack on the Saudi embassy.