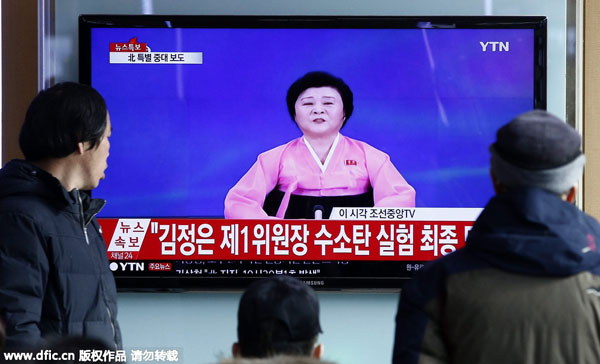 People watch TV news showing the DPRK's breaking news, at Seoul station, in Seoul, the Republic of Korea, January 6, 2016. [Photo/IC]
A new round of tensions is rapidly building up on the Korean Peninsula after the fourth nuclear test conducted by the Democratic People's Republic of Korea on Jan 6. Such an undesirable trend could revive the old vicious circle of provocation and retaliation, driving efforts to denuclearize the peninsula into a dead end again.
Two days after Pyongyang claimed it had successfully tested its first hydrogen bomb, its fourth nuclear test in a decade, the Republic of Korea resumed propaganda broadcasts in the border areas. ROK sources said on Monday the DPRK had expanded its own propaganda broadcasts in response.
On Sunday, A US B-52 bomber conducted a low-level flight in the vicinity of Osan, 40 kilometers south of Seoul, in response to Pyongyang's "recent provocative action," the Combined Forces Command said in a statement.
The militaries of the ROK and the United States are also reportedly considering additional deployment of "strategic assets" on the Korean Peninsula. The alliance may also choose to expand the scale of their forthcoming joint military exercises in the region.
The tense atmosphere on the peninsula resembles that after Pyongyang conducted its third nuclear test in January 2013 or in the wake of the sinking of the ROK's corvette Cheonan in March 2010. Only the prospects for denuclearization of the Korean Peninsula now look dimmer than ever.
Pyongyang's fourth nuclear test shows the country is determined to continue its pursuit of nuclear capabilities despite vehement opposition from the international community, China included. It also indicates the economic sanctions imposed by the United Nations Security Council after Pyongyang's previous tests in 2006, 2009 and 2013, have failed to deter the country from its nuclear ambitions.