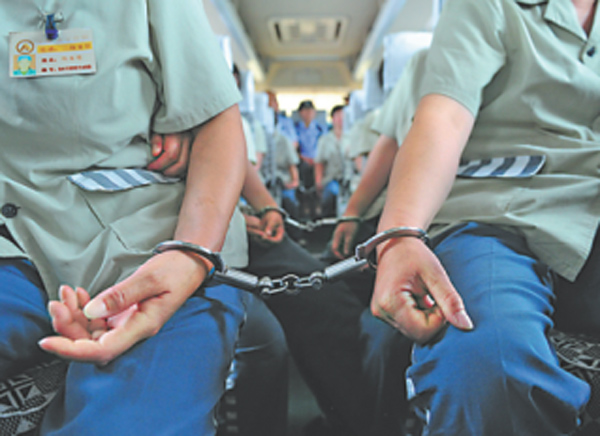 Criminal justice: Felons convicted of serious corruption would be prohibited from seeking shorter sentences, under a third reading of the draft amendment to the Criminal Law. The amendment aims to "safeguard judicial fairness". China Daily
The sixth plenary session of the 18th Central Commission for Discipline Inspection of the Communist Party of China, the top anti-graft body, opened on Tuesday and will last until Thursday.
The speeches in the last couple of weeks by top graft-buster Wang Qishan have sent the message that the momentum of the anti-graft campaign will not slacken and it is aimed at improving governance.
Top Party leader Xi Jinping has called for the establishment of clean and efficient governance.
As far as governing efficiency is concerned, making China's governments at all levels work as they should is no less important than curbing abuses of power.
What has happened in Sanhe in North China's Hebei province is a case in point. Over the last seven years, the unlicensed mining of dolomite ore and calcium carbonate has continued intermittently, which has caused heavy air pollution and serious damage to the local ecology. In the most recent illegal mining rush in December, about 100,000 tons of ore were mined during a single night.
Why can't the local government stop such illegal activities?
The local government has cited the deficiencies of the local police force and the difficulty in collecting evidence as reasons for its inability to stop the illegal mining, but this is simply an attempt to shirk the blame for its lack of governing competence.
No matter how clean the leaders and officials of this government are, they have done a very bad job in protecting the mineral resources that belong to the State from being stolen and the local ecology from being damaged by the illegal mining.
For the local officials in charge, both the discipline of the Party and the State law should show no leniency to their poor governance.
The strict management of the governing Party does not only mean punishing corrupt elements. It also requires stronger supervision over the work efficiency of Party members, especially leading officials.
It is, at the very least, a dereliction of duty for a government employee to be paid without doing any work. And this is as detrimental to the credibility of both the Party and government as trading power for interest. The current CCDI session should also work out ways to deal with lazy and irresponsible officials.