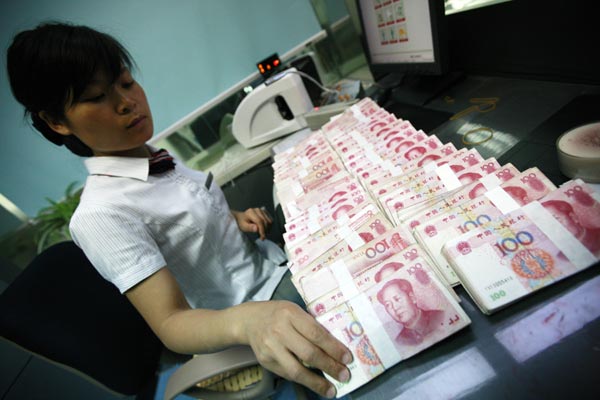 An employee counts yuan notes at a branch of Industrial and Commercial Bank of China Ltd in Wuxi, Jiangsu province. New yuan loan growth dropped in August due to weak demand. Xie Zhengyi / China Daily
The rapid decline in China's foreign exchange reserves last year and the recent deprecation of the Chinese currency have been competing for headlines with the recent domestic stock market plunges, which dropped another 5 percent on Monday after two 7-percent dives last week.
Yet viewed from a longer perspective, these changes do not necessarily point to gloomy growth prospects for the Chinese economy, which is undergoing a necessary transition from growth led by investment and exports to more sustainable development driven by consumption and innovation.
Official data show that China's foreign exchange reserves fell to $3.33 trillion after posting a drop of $107.9 billion in December, the sharpest monthly fall on record.
The fact that the yuan is down 6 percent against the US dollar since August has also sparked worries that the speed of depreciation might be too fast.
Given the current weakness of the Chinese economy and global growth, concerns over a big fall in the value of the yuan are well justified. But worries about the short-term change in the relative strength of the Chinese currency should not dim confidence in the country's long-term growth story.
China's accumulation of foreign exchange reserves of nearly $4 trillion over the past decade had a lot to do with the country's rise as a manufacturing powerhouse and top exporter. Now, with Chinese companies more eager to invest in overseas markets and Chinese consumers enthusiastic to travel and shop at home and abroad, it is no wonder that China's foreign exchange reserves should have peaked.
And speculation, as well as worries about China's overcapacity in some industrial sectors and the property market, can largely explain the recent depreciation of the yuan. However, the long-term resilience of the Chinese currency is yet to be fully recognized.
Meanwhile, Chinese cinemagoers spent $53 million over the weekend to make Star Wars: The Force Awakens one of the highest Saturday/Sunday openings of all-time at the mainland box office, which expanded by nearly 50 percent in 2015 and is expected to overtake the United States as the world's largest soon.
This is not to say that Chinese consumers are already a decisive driving force for the country's economic growth given the relative small size of the domestic movie market compared with the country's $10-trillion GDP. But it definitely signals consumption-led growth that will play an increasingly bigger role in determining the long-term strength of the Chinese economy.