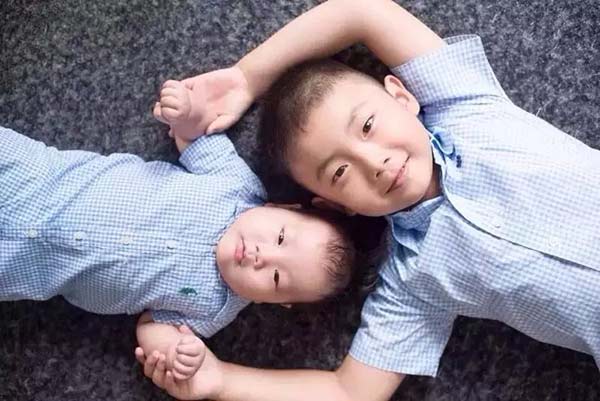 A boy with his younger brother. [Photo provided to chinadaily.com.cn]
The timetable recently set by some employers for female staff to have children underscores the need for the authorities to take measures to protect women's rights.
Following the adoption of the national policy to universally allow all couples to have a second child, some employers have tried to prescribe when their female employees wanting to have a child can do so.
A company in Changchun, capital of Jilin province, Northeast China, for instance, recently told female job applicants that if hired they would have to submit an application a year in advance if they wanted to have children and they might have to be prepared to change their plans. It argued that it has no better way to prevent too many female employees from taking maternity leave at the same time.
Such requirements are undoubtedly a gross violation of women's rights. It is up to these women employees themselves to decide whether they should have a child and when. This is a basic right women are entitled to and there is no excuse for anyone to interfere with it.
To require female workers to get pregnant and have children according to a company schedule, like a mandatory instruction for workers manufacturing products on an assembly line, only testifies to employers' lack of respect for their workers and the country's laws.
Every employer is motivated to cut labor costs and pursue profits, but this does not justify them making interventions into their female employees' plans to have children, which is completely within the scope of their personal affairs that can only be decided by the women themselves and their husbands.
The authorities should take effective measures to stop such violations of female workers' rights by employers.