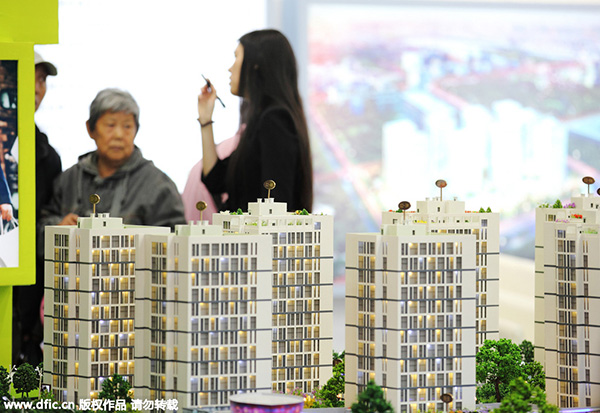 A sales woman introduces an overseas property program to visitors at a spring real estate exhibition held in Beijing, April 17, 2015. [Photo/IC]
The rare official notice urging property developers to "properly" reduce housing prices should serve as a stern warning to those who bid recklessly to send land prices soaring in first-tier cities such as Beijing and Shanghai.
To effectively and timely destock the housing inventory, local governments must take measures to stop the recent return of "land kings", who buy and sell plots at prices higher than even the current housing prices. It is not because such land sales will substantially change the overall supply or prices in local property markets, but by tolerating jaw-dropping high land prices, local governments will seriously undermine the credibility of the national campaign to slow down, if not totally stop, the rapid accumulation of unsold houses.
The real estate boom helped fuel China's robust economic growth for more than a decade from the beginning of the century despite frequent warnings against the forming of a dangerous housing bubble. Policymakers tried time and again to rein in the breakneck rise in housing prices but refrained from setting a peak price. Although the excessive surge in housing prices triggered loud public complaints in many cities, few local governments could resist the temptation of fat revenues from land sales and the immediate boost a booming property market gave to local economic growth.
But with China's demographic tailwind turning into a headwind in recent years, property developers have found it increasingly difficult to sell new houses as fast as they build them. Latest data show the country's unsold home inventory hit 696.4 million square meters at the end of November, up 10 million sq m over the record figure reached in just the previous month.
To put the problem of oversupply in perspective, according to E-House China R&D Institute, for every new home sold in first-tier cities in October, there were nine unsold; the ratio was high as 1 to 12.2 and 1 to 18.9 in second-and third-tier cities.
If the number of first-time buyers keeps increasing and if they assume housing prices can go in only one direction, policymakers might not need to worry too much about the unsold houses. In fact, thanks to accommodative monetary policies and other incentives for buying houses - and driven by robust demand in first-and second-tier cities where the "land kings" are concentrated - the sales revenue soared 15.6 percent year-on-year to reach nearly 7.5 trillion yuan ($1.1 trillion) in the first 11 months of this year.
But the warning does not change the underlying trend that the real estate boom is coming to an end as the country shifts away from investment-led to consumption-driven growth and its working-age population shrinks.
That is why at the just-concluded Central Work Economic Conference, China's top leaders emphasized the importance of reducing the huge inventory of unsold houses. As such, a direct call to reduce housing prices to facilitate destocking is not an intervention in the property market. Instead, it is recognition of the necessity to not leave this pillar industry in the hands of property developers and local policymakers who prioritize short-term gains over long-term social and economic consequences of a housing bubble.
By linking the reduction of unsold houses with the plan to significantly raise the number of migrant workers who can permanently settle in cities in the coming five years, the country's top leaders are trying to find a creative way to save the real estate sector from being a propeller to becoming a drag on the national economy as they advance the course of urbanization.
But if property developers mistake the move as another step to spur housing prices and keep increasing the costs of land in major cities, potential homebuyers will have no choice but to adopt a wait-and-see approach while unsold houses loom as a threat to the economy.